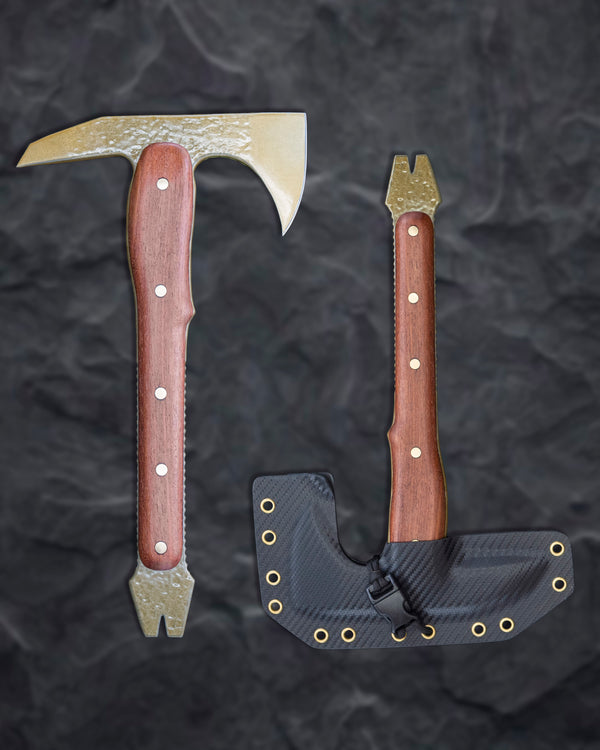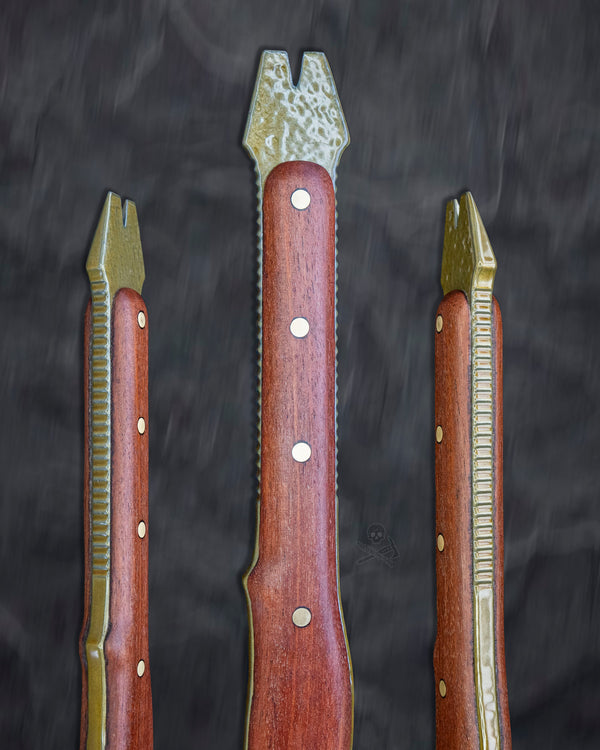 Now world renowned for making the strongest and sharpest tomahawks, Greg started planning and designing the first Bone Hawk circa early 2013. Later that year the Bone Hawk became the first ever tomahawk specifically designed to complement modern combat tomahawk fighting techniques, handle a vast array of bushcraft tasks, aid as a dynamic entry device, and finally to be used as a multi-purpose tool in non-combat scenarios.
The 100% handmade Gen 7 Bone Hawk is the first ever full tang, dual handle bi-steel design tomahawk that allows for use in both extreme close quarters, and as a mid-range CQB weapon. Although the Bone Hawk was originally designed for modern warfighters, it features a vast array of potential applications due to its superior design that make it an extremely viable tool for more than just the tactical professional. Primarily, its design complements modern martial arts tomahawk fighting techniques. These design features include but are not limited to: the upper handle facilitating a strong choke grip for extreme close quarters engagements, the un-sharpened beard for hooking and trapping movements, the extended and ribbed pry-bar pommel also to be used for trapping techniques/small joint manipulation, and the arc of the rear tanto spike that mimics the arc of a natural human swing for maximum penetration on impact (as well as easy removal for repeated strikes). For more information on tomahawk combatives we recommend studying the Pekiti-Tirsia Kali method of tomahawk fighting.
The solid, mild steel handle shaft becomes high performance 5160 at the head and pry bar. At approximately 3/8" thick, this bi-steel construction process makes the Gen 7 Bone Hawk virtually unbreakable. Our tomahawks are by far the strongest tomahawks on the market today, and currently the only tomahawks made in this manner. The mild steel shaft gives them excellent handle spring and flexibility, while the working impact sections (head and tail) feature extreme hardness, toughness, and durability. This means the hawk won't transfer energy into one's hand when striking hard objects, thereby preventing hand injuries, and limiting loss of the tool.
The best weapon in a combat situation is the weapon that is immediately available, so we made sure the Bone Hawk is small enough for an operator to carry on their person. The thermoplastic sheath has eyelets in which we've attached a secondary retention system of paracord and a quick release buckle, making it a "jumpable" system (for missions requiring aircraft insertions). Aside from being tie-down points and anchor points, the host of 1/4" eyelets surrounding the sheath can be used to attach nearly any aftermarket clip, hook, or loop system desired. Greg recommends using Thomas & Betts Ty-Rap high performance cable ties with steel inserts to affix edged weapons to your kit. The sheath and hawk are also designed so that the hawk can be used as a less-lethal form of self-defense while the sheath is still attached. Our hand-made leather drop-leg belt sheathes are also available for separate purchase.
The handle on this "High Roller" edition is made from tough and beautiful cloud forest Rosewood that Greg sources himself searching the jungles of Central America for fallen trees. He does this because when you buy precious hardwood in the US it's often both illegally sourced and mislabeled. He loads up one of his expedition vehicles and goes into some of the most remote regions on earth, often for weeks at a time, to search for the exotic hardwoods you can find finely crafted into these luxury handle slabs... allowing you to buy with the confidence of knowing you're getting what you pay for and while supporting sustainability of our forests. The color of the hawk itself is a faux 24k gold polymer resin. The hardwood handles are affixed with both 5-ton epoxy and brass rivets, a combination of artistic beauty and overbuilt toughness that will last for generations to come.
Our tomahawks can puncture hard objects like steel doors, heavy glass windows, and Kevlar helmets with the rear spike. The cutting edge of the Hawk comes sharp enough to handle any soft tissues, and all precision cutting tasks. They can easily shear through flesh and bone, even metal vehicles. The rear spike was designed for contact with hard objects like metal, and the face for use on softer objects like wood, flesh, and bone.
Aside from being devastating to soft tissue, the face of the Bone Hawk is of a traditional curved design that can handle bushcraft chores with ease. It excels at chopping and can be used to whittle and create fine shavings in a choked-up grip. The rear spike and the pry bar pommel makes our hawk a surprisingly effective breaching tool.
Our polymer resin coatings are absolutely the best final finishes available for hard use steel and make our hawks almost completely impervious to rust and corrosion while reducing surface friction to increase cutting and penetration ability. We recommend keeping the cutting edge clean and well-oiled to prevent surface oxidation, as is the same with all quality blades. Every fully custom Bone Tactical edged weapon is a beautiful, hand-finished, collector quality piece that can be passed down through generations as an heirloom yet is still very capable of hard use. Since our edged weapons and tools are completely custom, no two blades are the same.
SPECIFICATIONS:
 Total Package Weight:  Approx. 1 KG
 Total Package Length: <13"
 Total Package Width: <9"
 Blade length: <3"
 Spike Length: 2.75"
 Handle Material: Reclaimed Honduran Rosewood from Central American jungle expeditions.
 Finish: Faux gold polymer resin
 Blade Steel: Head and pry bar 5160, mild steel shaft.