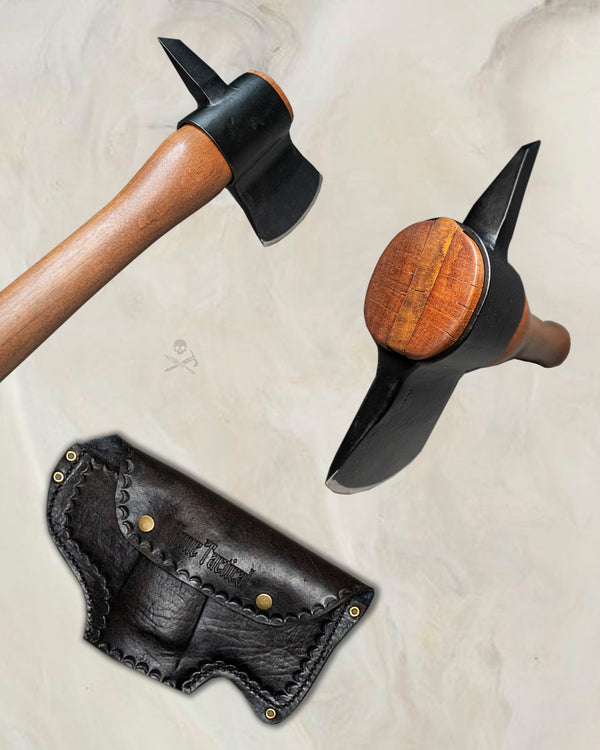 Traditional American axe forging and hanging methods meet modern steel and fine exotic hardwoods to bring you the Dissident Boarding Axe.  These marvels are Greg's modern representation of an early 18th century boarding axe. Traditionally hand forged with Bone Tactical famous attention to detail and utilizing only the finest quality materials the world over.
Available in two sizes, both of which feature a high carbon steel loop fused to a 5160 axe head and 5160 tail spike making for an indestructible work of art. The "Blackbeard" is most similar in size to our large breaching tomahawk and can be wielded with one hand, but only by the strongest of men. The Calico Jack is of a more standard hatchet size, and most will find it reasonable for single hand use. Each axe comes with a handmade leather belt sheath featuring solid bronze accessories.
Greg recycled the timber for this project many moons ago in the way of extremely rare old growth mountain tamarind heartwood he found on expedition in the jungles of Central America. The fallen tree was split and stored, patiently waiting to be paired with its axe head. This exotic hardwood handle is more than twice as strong as its traditional American Hickory counterpart and much more beautiful to boot. We hand carve each axe handle and hand sand them, then cure them with a natural protective wood oil.
After being hand forged each axe head is hand hung. We use a light color bullywood wedge that is also hand made for each axe. After being driven into place and glued, it's shaved off, hand sanded again, and then oiled. Bullywood is another incredibly strong and durable exotic hardwood. We use it in this case also for the beautiful contrast it creates aside the mountain tamarind. Wood will expand and contract when changing environments or with time. Our home base being Florida, if we ship an axe to a less humid state, it may shrink a bit. If the handle shrinking leads to wiggle in the axe head, don't be alarmed. This is normal, expected, and a small amount of effort by the end user can get things locked in tight again. All blades and tools require maintenance. Axe users have been managing to maintain their axes for thousands of years, you can too!
Blackbeard Dissident Boarding Axe Specs:
Total Package Weight: Approx. 10 lbs.
Total Package Length: Approx. 23"
Total Package Width: Approx 12"
Blade length: Approx. 4.75"
Spike Length: Approx 3"
Handle Material: Mountain Tamarind heartwood from Central American jungle expeditions w/ Bullywood wedge
Finish: Faux patina polymer resin
Blade Steel: High Carbon at shaft, 5160 at striking points
Calico Jack Dissident Boarding Axe Specs:
Total Package Weight: Approx. 5 lbs.
Total Package Length: Approx. 15"
Total Package Width: Approx 10"
Blade length: Approx 3.5"
Spike Length: Approx 2.75"
Handle Material: Mountain Tamarind from Central American jungle expeditions w/ Bullywood wedge
Finish: Faux patina polymer resin
Blade Steel: High Carbon at shaft, 5160 at striking points