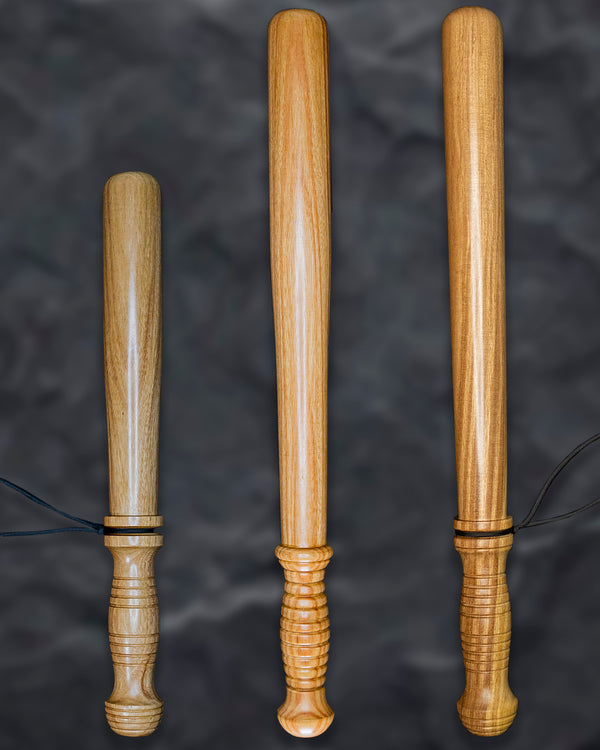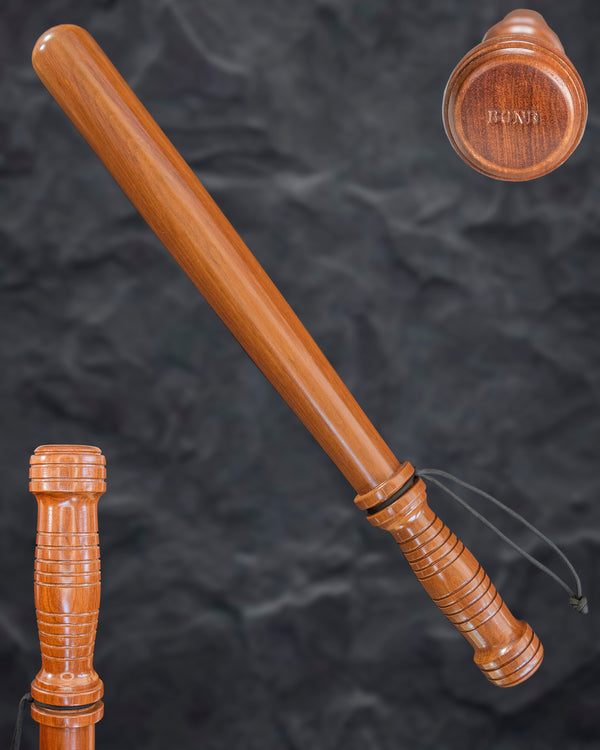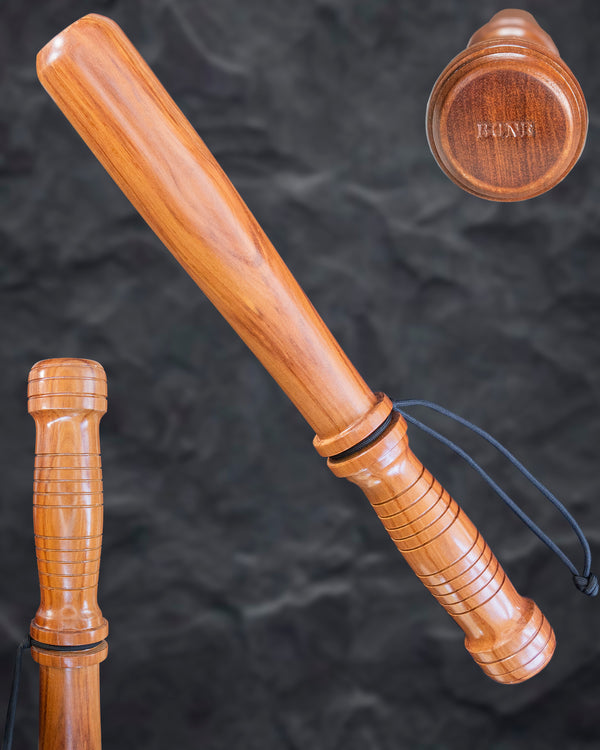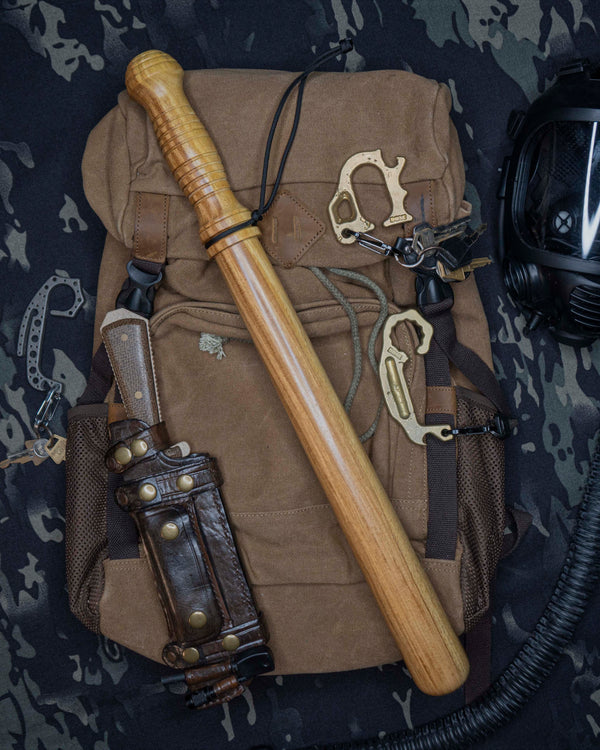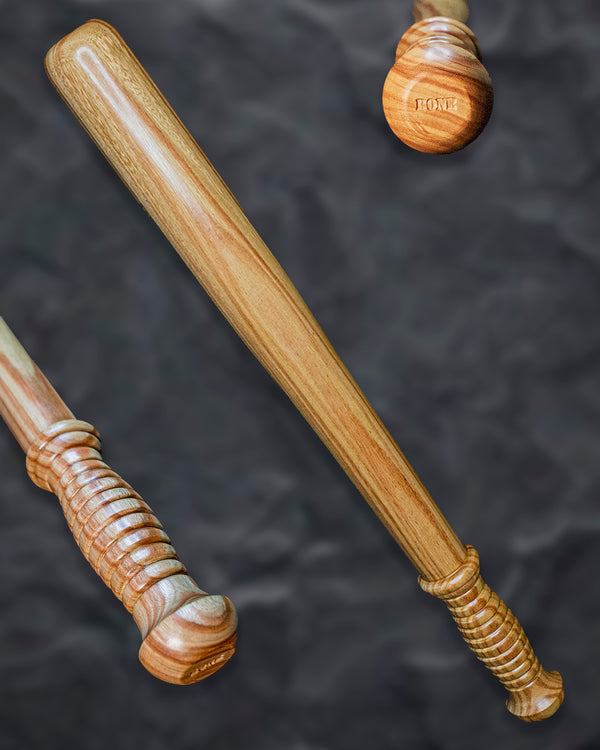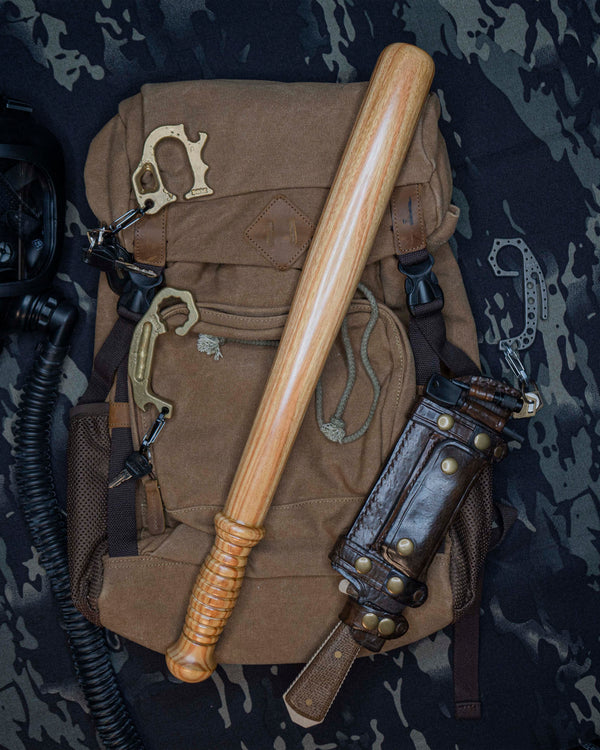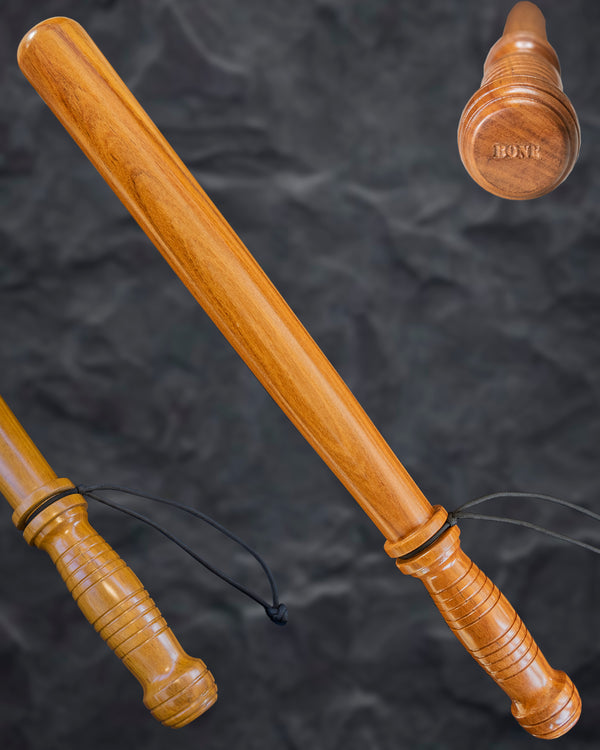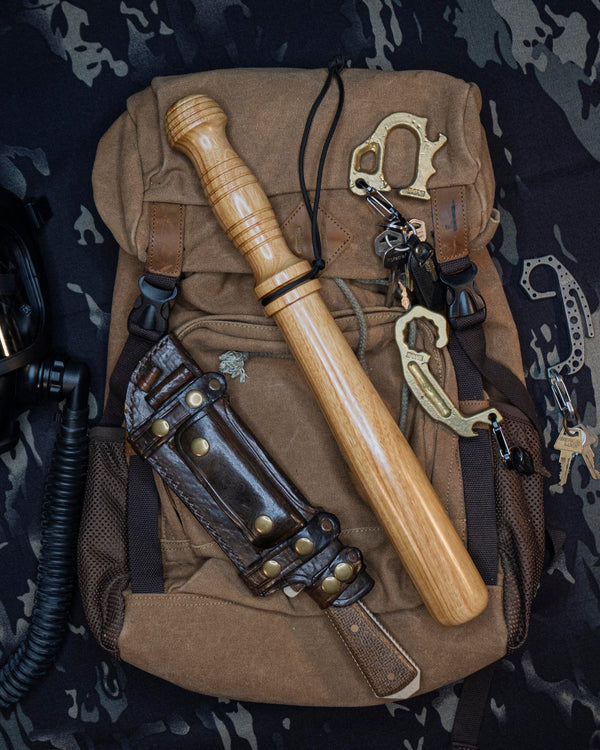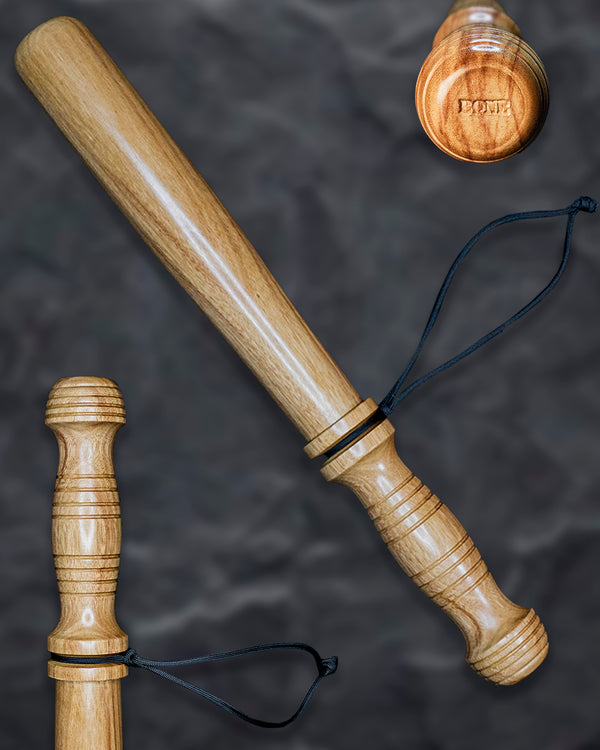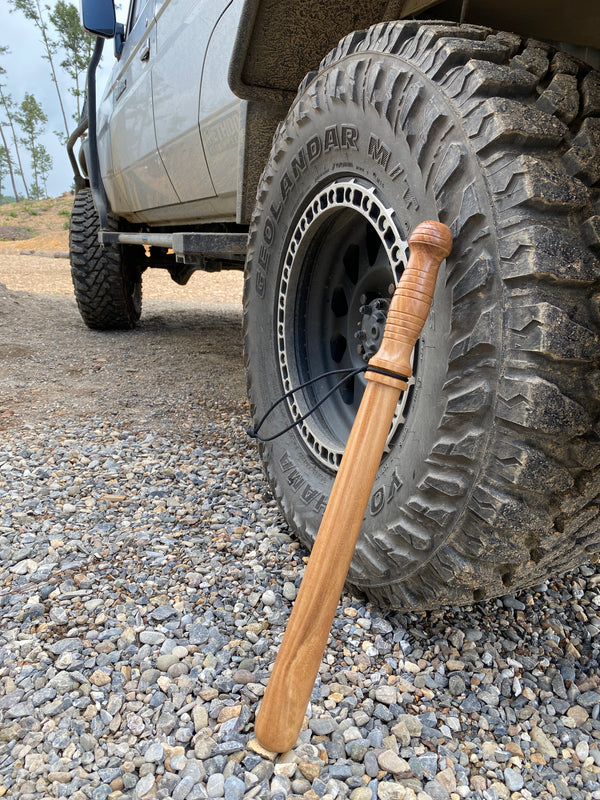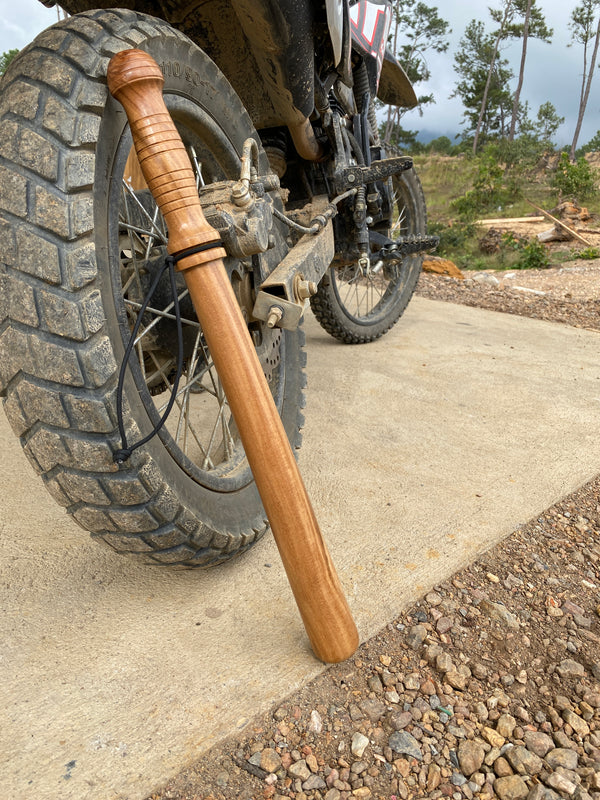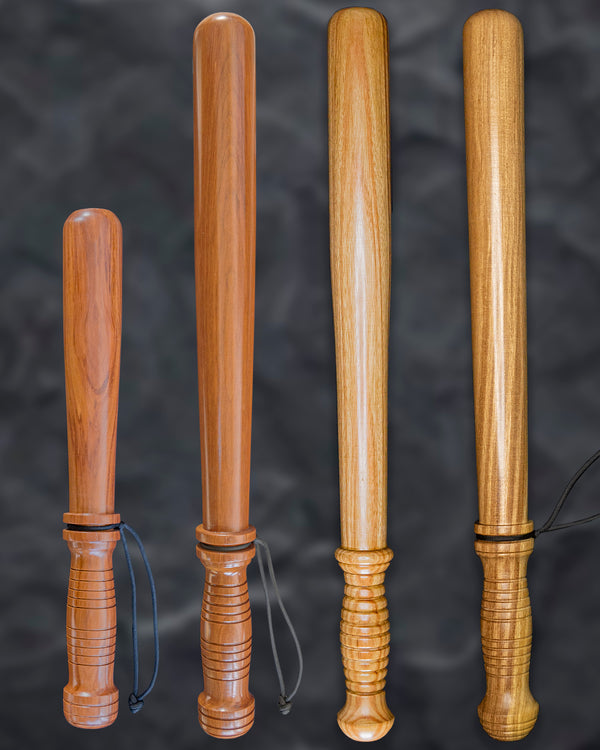 The Bone Thumper is a versatile tool that's great for checking the air pressure in tires on cars, trucks, and other vehicles. Individually hand made from incredibly strong and durable exotic hardwoods, they are built to withstand heavy use and even outlast the original owner. Additionally, the Bone Thumper can be used as a self-defense tool. Its sleek design and intricately carved handle provide a secure and comfortable grip. The corded model comes with a 550lb black paracord lanyard attached for added security of purchase.
Like a war club, it can be used to disable an attacker. The weight forward design combined with the high density of the rare jungle hardwoods can deliver an extremely powerful blow. Compact, lightweight, and easy to carry in a vehicle or backpack, it's a great option for anyone who wants to be prepared on the road or out in the field.
It has all but slipped from the consciousness of the common man that there are types of wood, incredibly hard and incredibly well-suited for impact weapons. Greg has spent the last 7 years trekking deep into the jungles of Central America for weeks on end. Braving swarms of disease carrying insects, close calls with dangerous animals, and even building custom vehicles to traverse the difficult terrain: Greg harvests extremely rare fallen trees of the specific genus and species (specific wood data listed below) in which our ancestors from before metal was even invented knew to be a secret to creating devastating impact weapons. From there, our advanced transparent poly coating will allow these thumpers to last for centuries to come.
Exotic jungle Nargusta wood, rarely seen in the US, has incredible blood red streaks running through the warm yellowish heartwood. The contrast of the rustic finish is truly magnificent to behold, different in each and every tool. In terms of strength and durability it is comparable to American Hickory.
Cloud forest Chichipate (also called Southern Chestnut or Billy Webb wood) features a beautiful colorway ranging from tinted cream outer rings to a radiant reddish brown center to very similar to Teak. It takes a fine polish, even to the point of having a translucent shimmering effect in some pieces. It's more than twice as hard as Walnut and even considerably harder than American Hickory!
Wild mountain Tamarind is a true old-world Ironwood. The dark reddish-brown heartwood we use for our tools is only present in ancient trees, meaning these weapons have been in the making for at least 100 years… the heartwood we're using now is from a massive fallen tree that had been dead for over 20 years before Greg recovered it. The "Spalted Tamarind" sapwood of these trees that's commonly available in the US is weak and prone to rot, but the heartwood is a miracle of God's natural creation. Upon picking up a club made from this unbelievable wood one will immediately notice the weight, as it's much heavier than any of the other woods. In fact, it's nearly three times harder and stronger than any American hardwood.
Billy Webb Large Bone Thumper w/ Lanyard Specs:
Overall Length: approx 24"
Diameter: 1 ¾" - "2"
Weight: 1.7lbs
Material: Billy Webb wood/Cloud Forest Chichipate
Nargusta Large Bone Thumper Specs:
Overall Length: approx 24"
Diameter: 1 ¾" - "2"
Weight: 1.6lbs
Material: Exotic jungle Nargusta heartwood
Nargusta Small Bone Thumper w/ Lanyard Specs:
Overall Length: approx 18"
Diameter: 1 ¾" - "2"
Weight: 1.4lbs
Material: Exotic jungle Nargusta heartwood
Tamarind Large Bone Thumper w/ Lanyard Specs:
Overall Length: approx 24"
Diameter: 1 ¾" – 2"
Weight: 2lbs.
Material: Wild Tamarind Heartwood