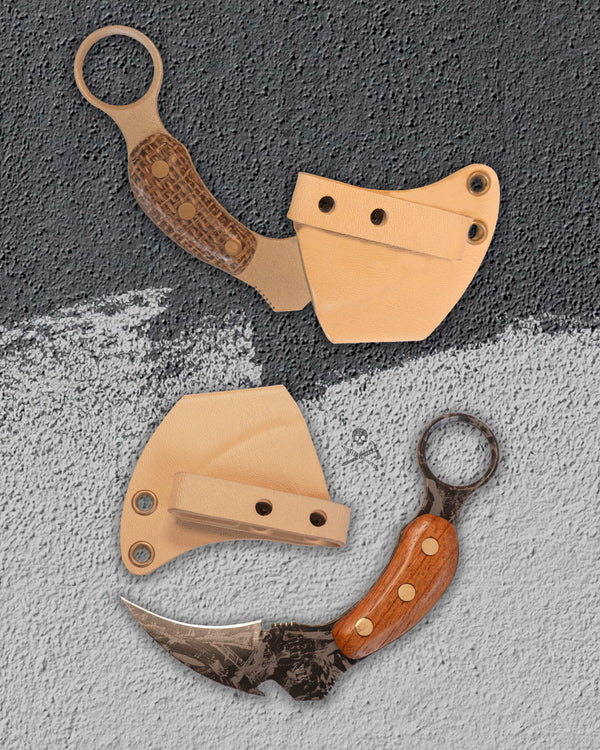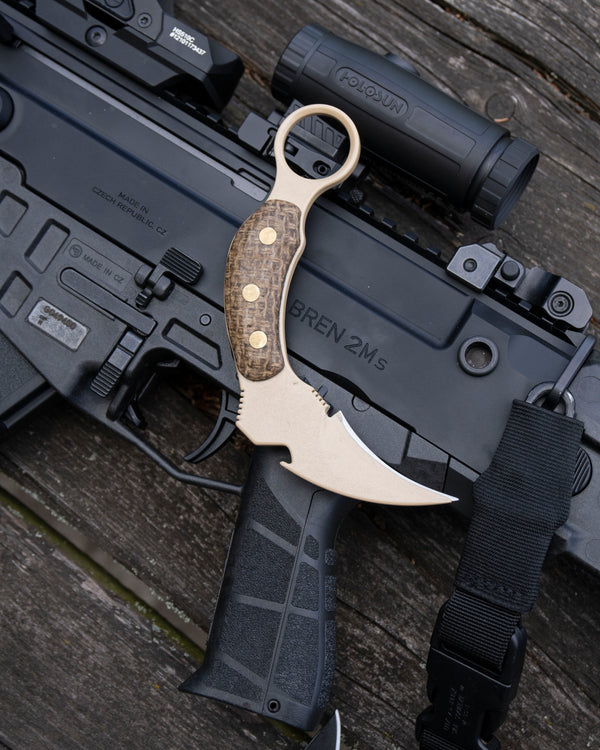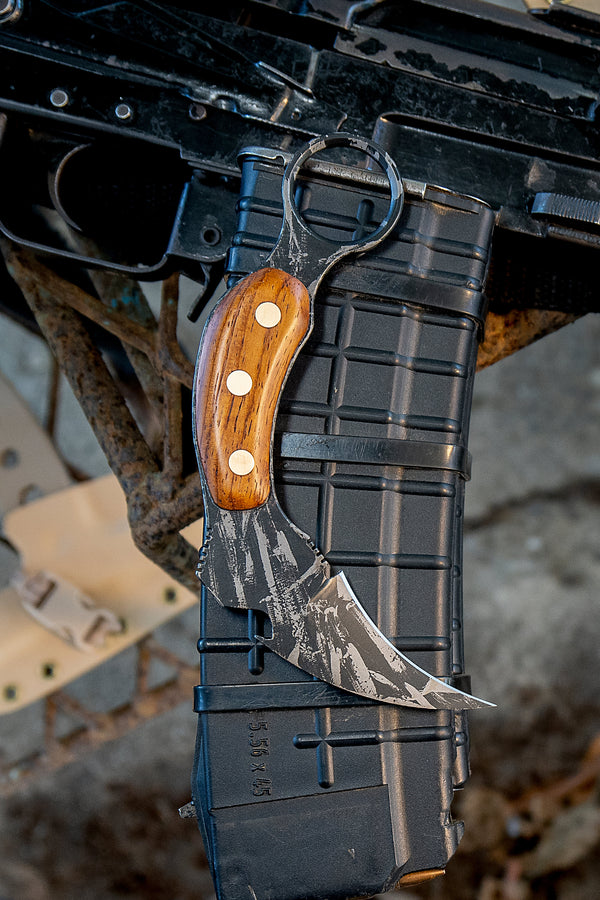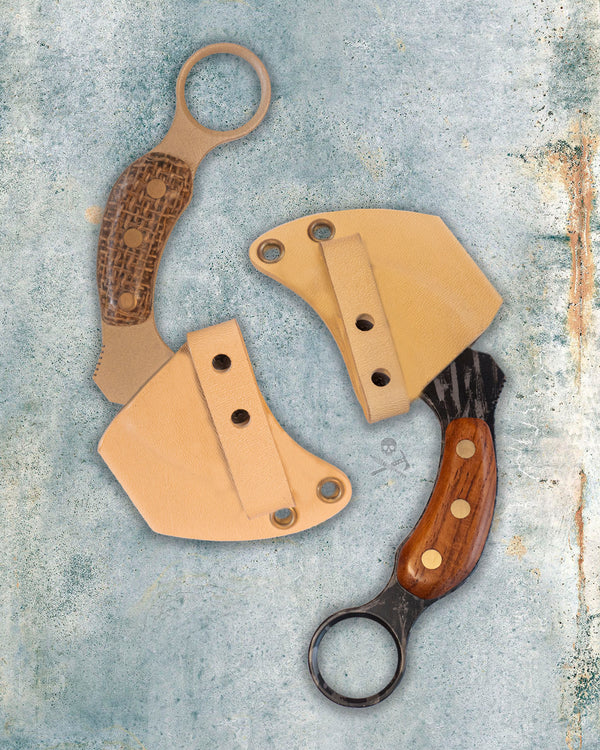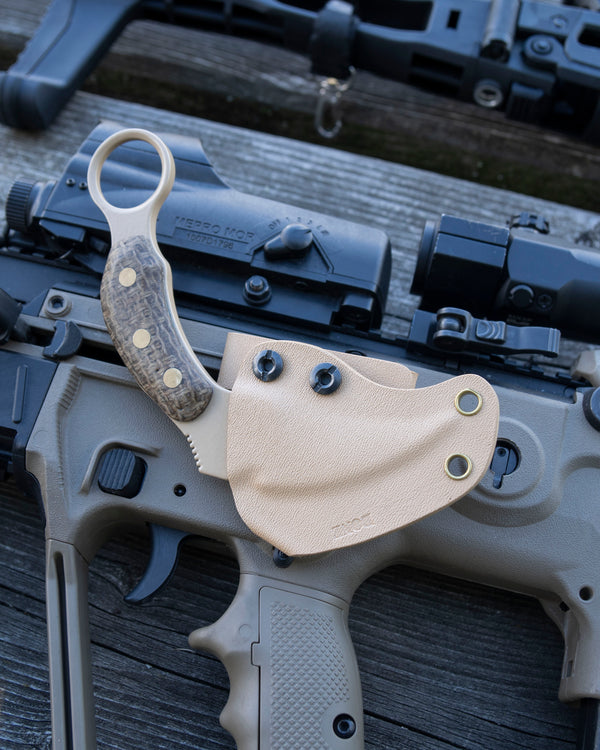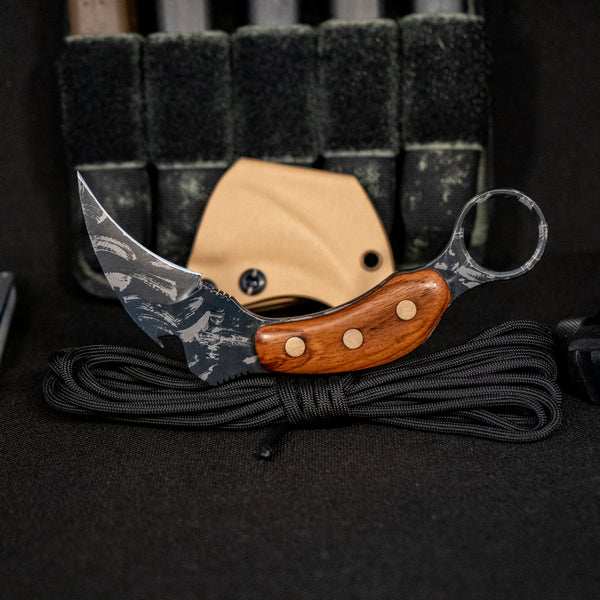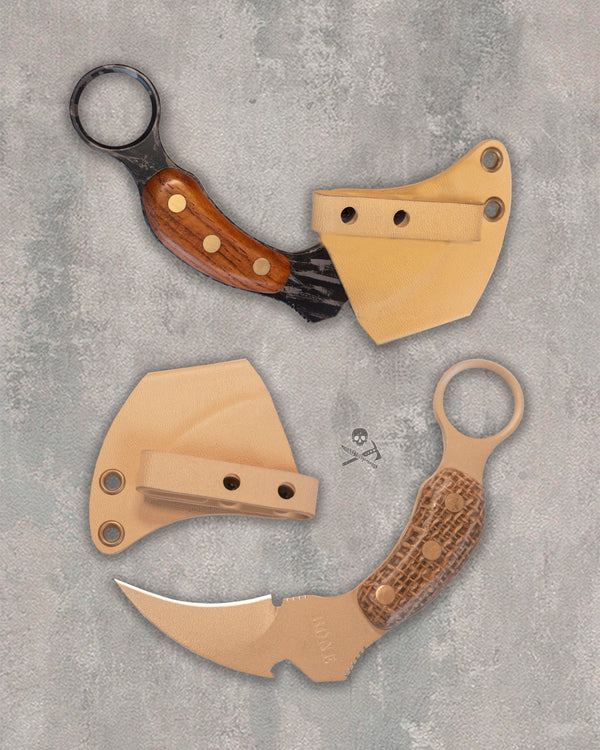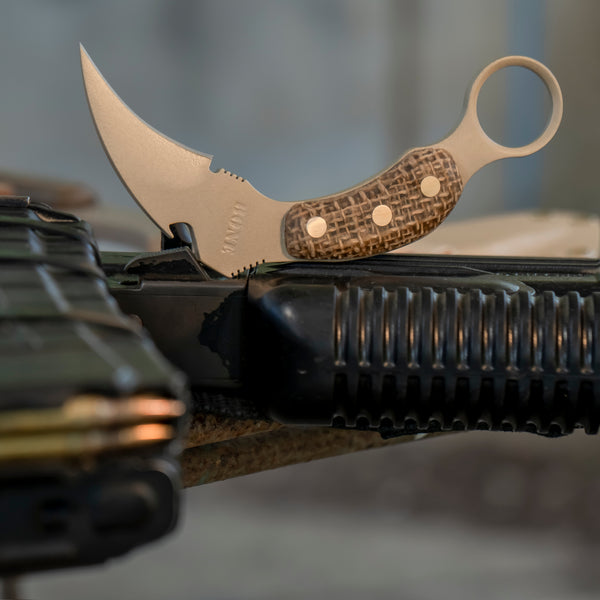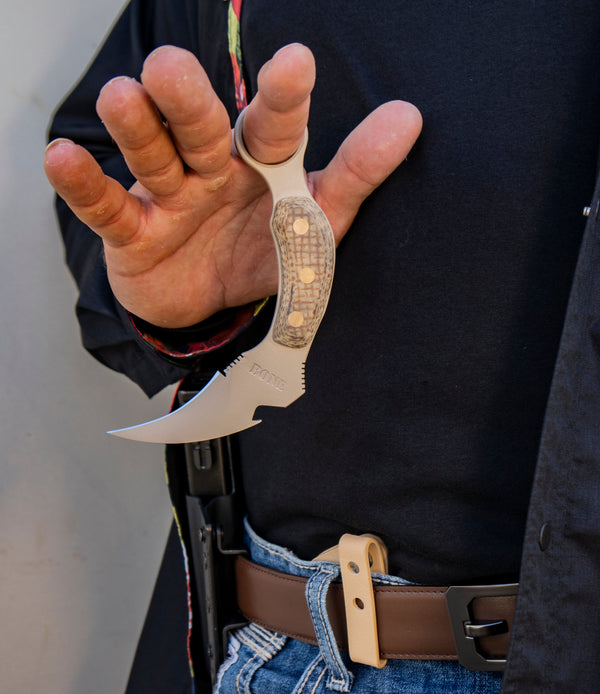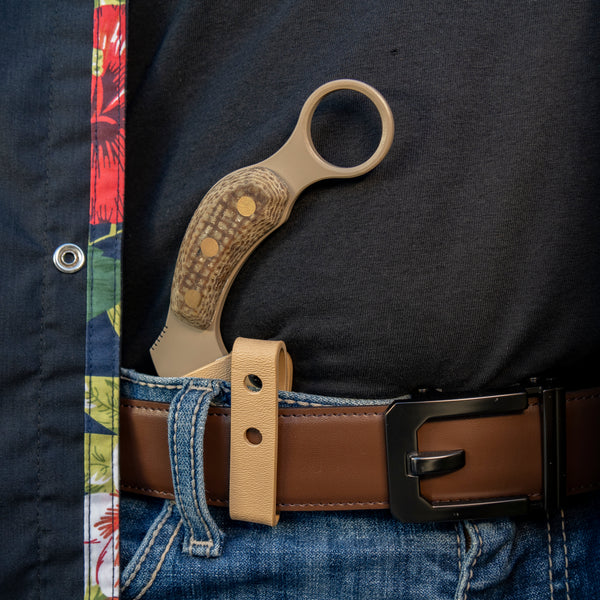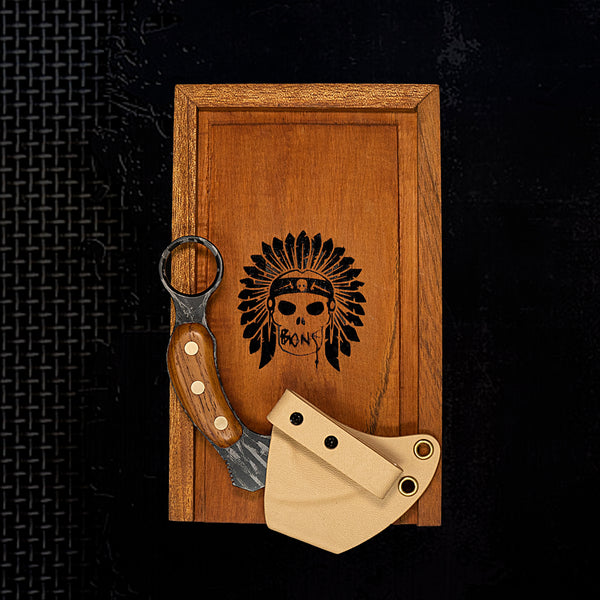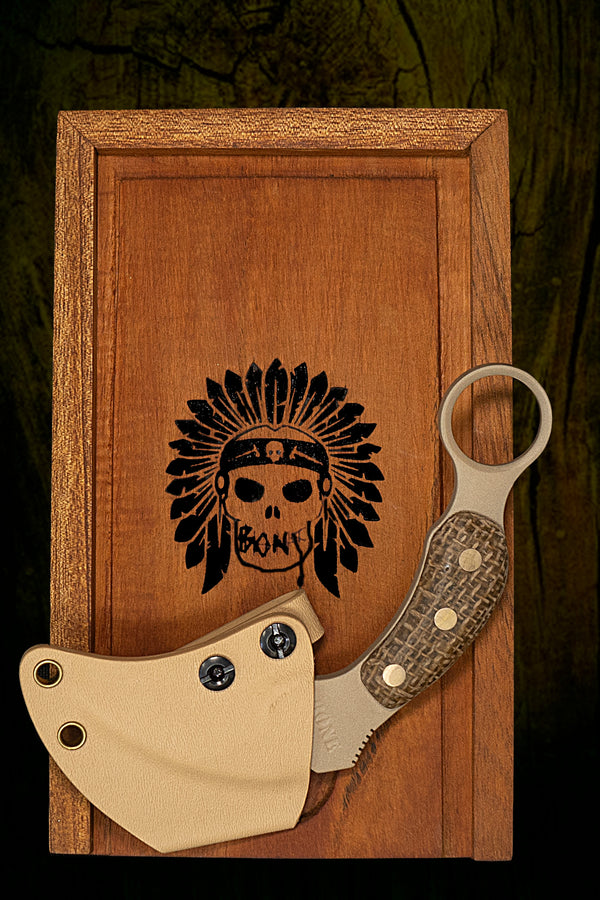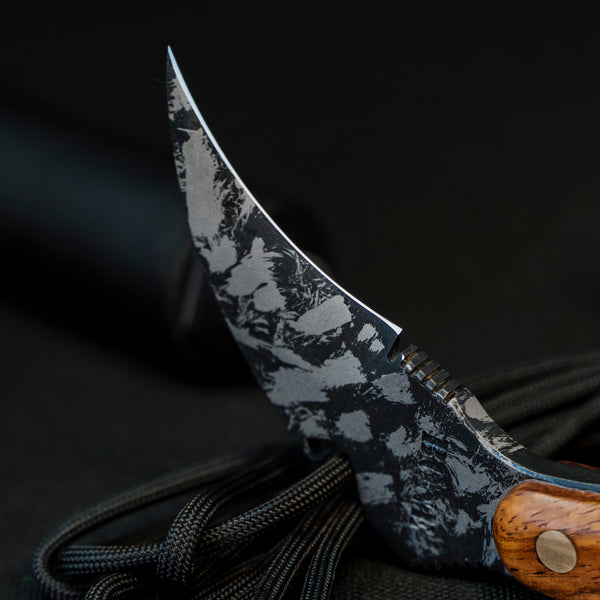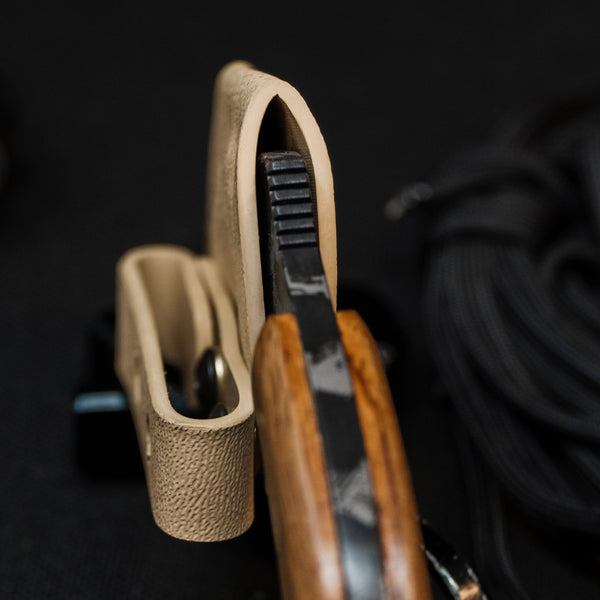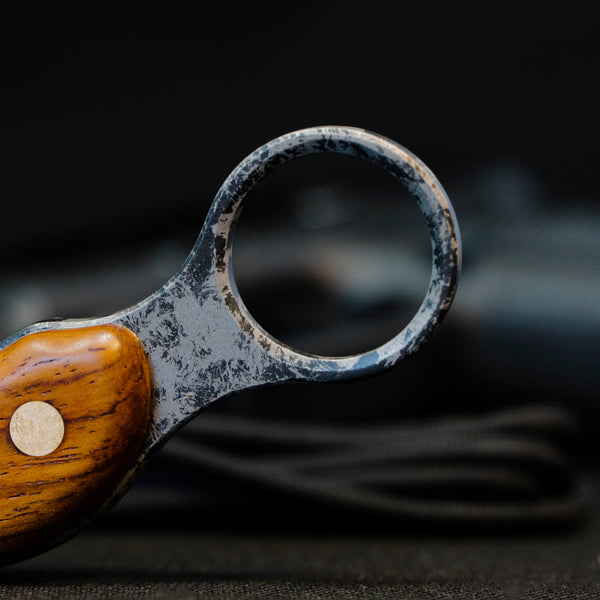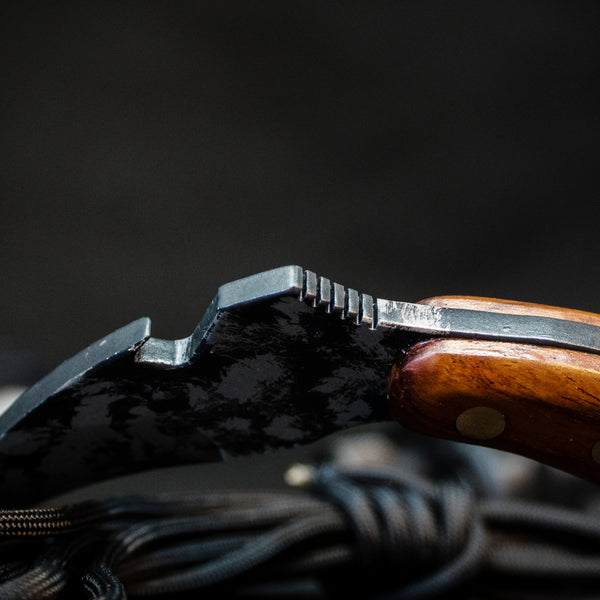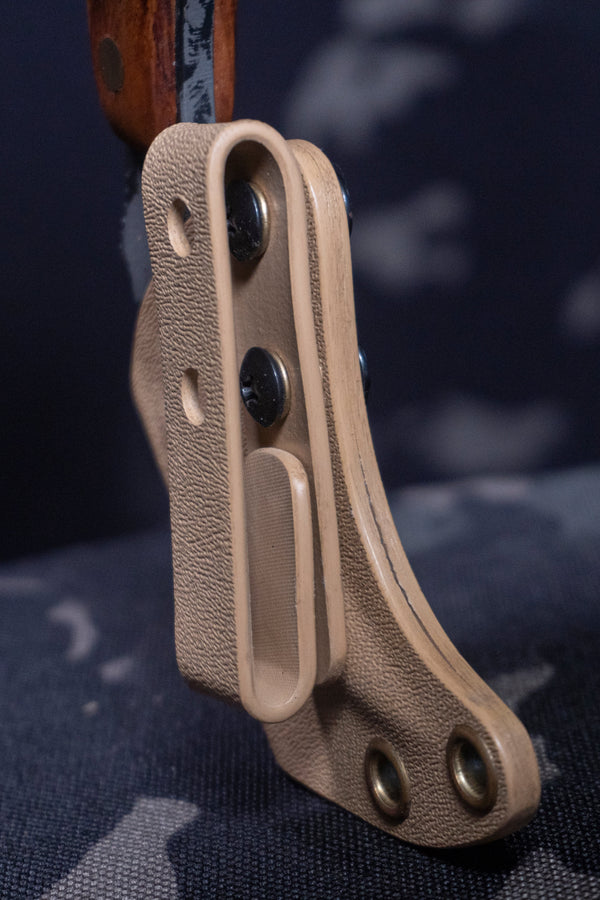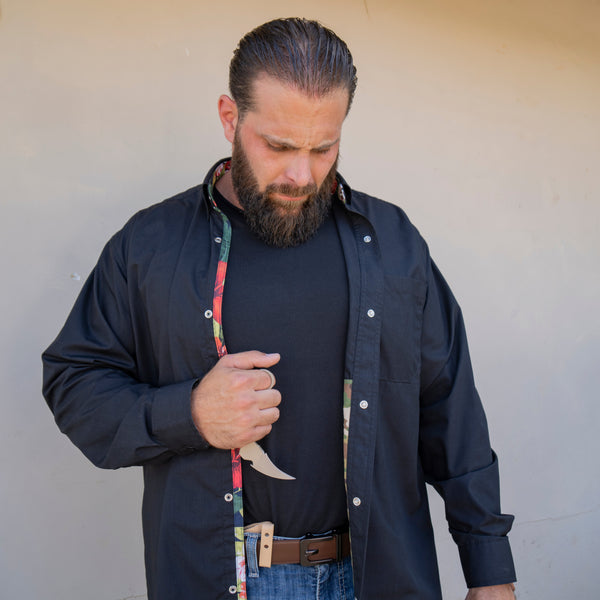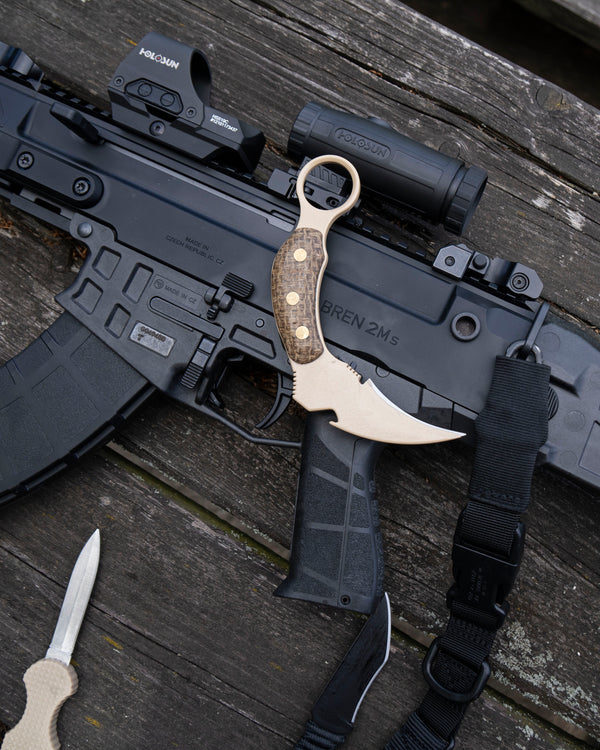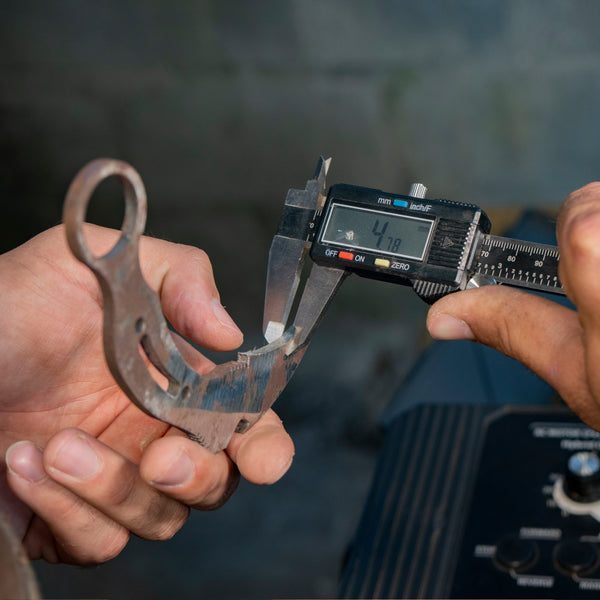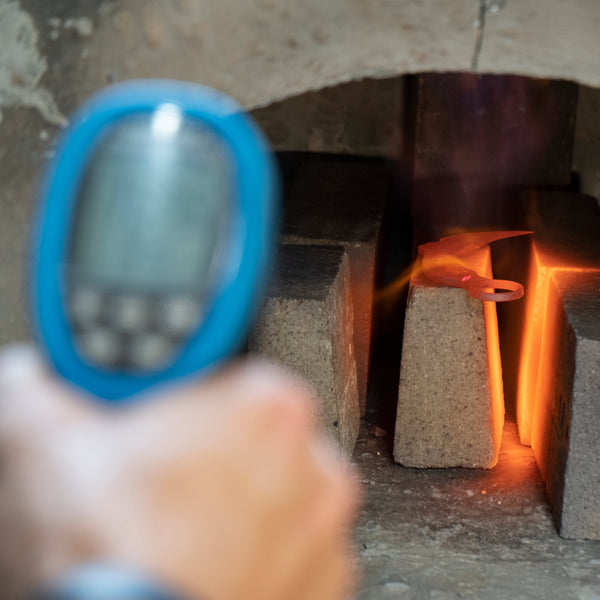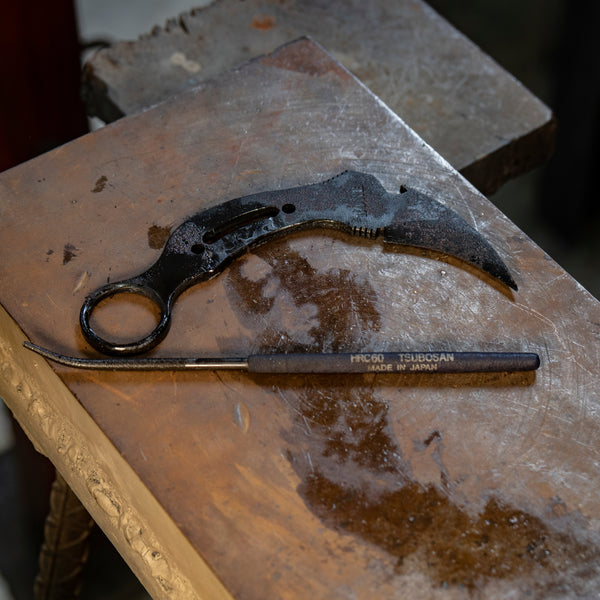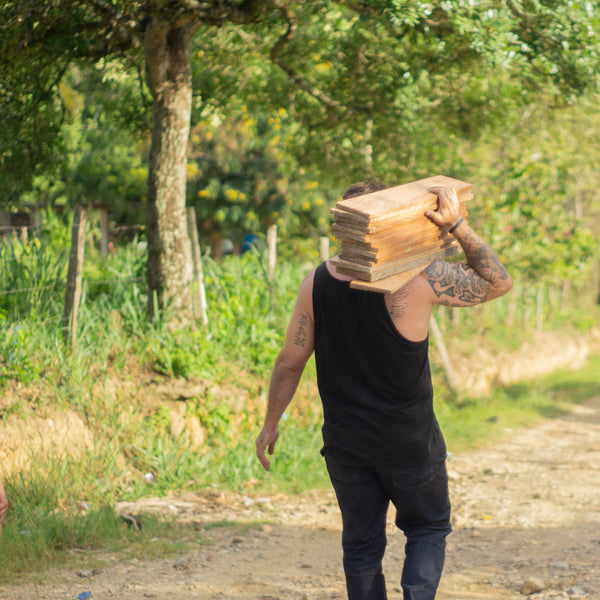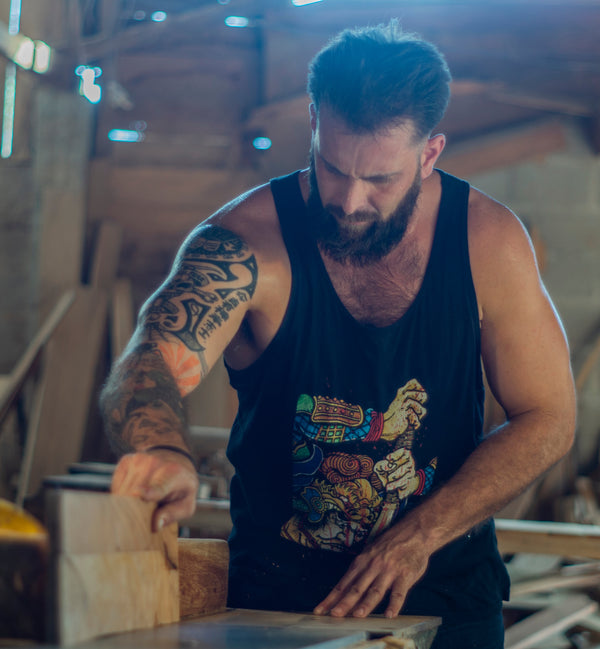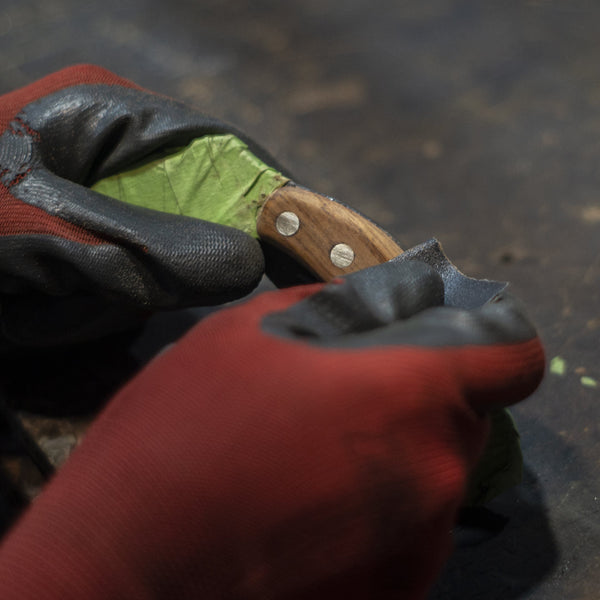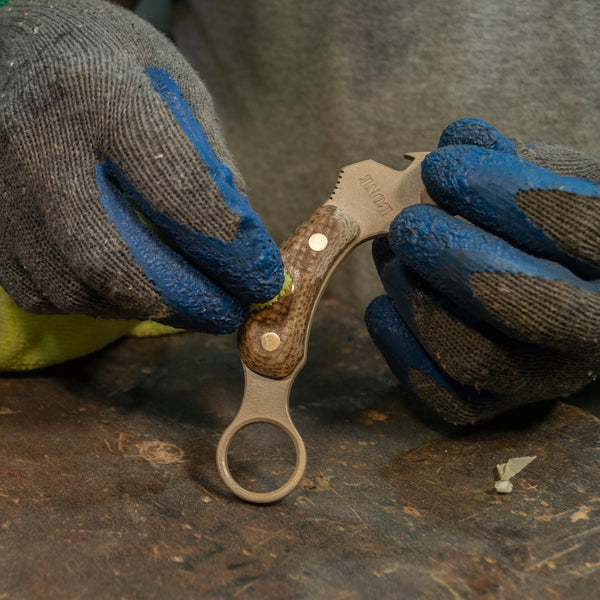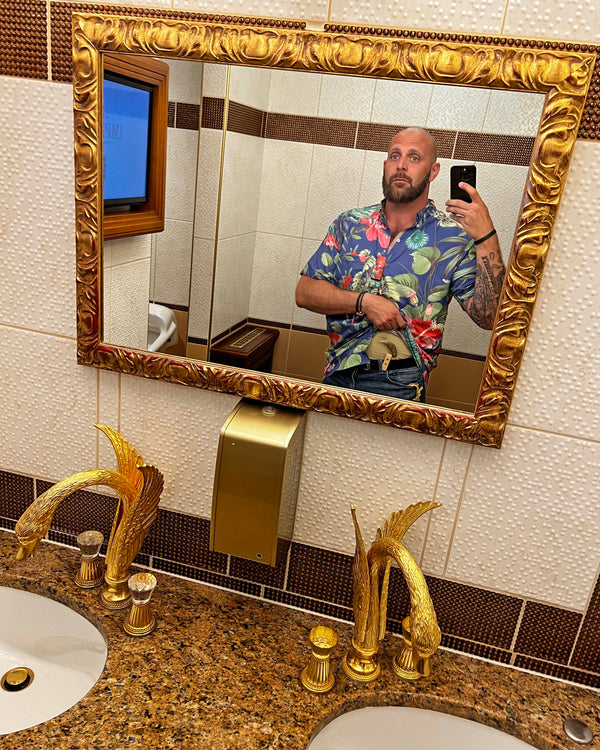 The Karambit was born as a utility knife carried by villagers in the Indonesian archipelago around the turn of the 11th century. It was originally a true EDC ( Every Day Carry ) knife used for a variety of tasks like farming and field work but very quickly proved it's usefulness as an incredibly effective self-defense weapon. The more it became associated with the Indonesian martial arts form of Pencak Silat and Filipino Kali, the more it took the shape of the direct translation of its name, the "tiger's claw". The wound channels and damage this tool can create in soft tissues also bear a striking similarity to the horrific mauling attacks the tigers of that area were known for (the only animals in the world known to actively hunt humans). Early versions of the karambit were some of the first true "NPE" knives because even common farmers could carry one during a time and socioeconomic system in which the working class were not generally allowed to carry weapons. The karambit was even used by warriors as a last ditch back-up blade after the sword and spear were no longer a viable option. It's still one of the most effective self-defense tools for its size today, and for modern operators it serves a very similar purpose.
   When Greg decided to start producing and designing edged weapons many years ago now, the Karambit was near the top of his list. The reason for this was trifold: His background and experience in Silat knife fighting techniques, the huge lack of "modernized" karambits currently available (inferior design/carry methods), and his desire to produce the most effective specifically defensive blade ever built. Pencak Silat Karambit fighting methods teach us that a Karambit can quickly and effectively be used to eliminate threats by disrupting blood supply, neural connections, organ structure, and soft or connective tissue. Many Karambits produced today very closely resemble the original design carried by villagers as a tool for daily farm use. This is unfortunate because these karambits fall far short of their high potential for use as a self-defense weapon... mainly because there was no real safe, discreet and/or effective way to carry them (before the invention of the Bone Karambit). In fact, most of the karambits produced in the US are relatively well made but still use designs for both blade and sheathes that haven't changed in many centuries. These traditional Indonesian style karambits, while having a decent design for self-defense, are often large or bulky, overly flashy, and don't come with a sheath that allows for comfortable or practical everyday carry. Worse still, Karambits from the east (China, Pakistan, Indonesia...) are usually the lowest quality of all in our modern day and age. They often feature cheap, inferior materials and poor workmanship.
   The Karambit has the potential to be the most effective defensive blade you could ever carry for several reasons... The signature curved slashing blade of our Karambit allows it to be small enough to remain potentially unseen, while providing the same stopping power of a much larger blade. Our Karambit is designed to be small enough to conceal and large enough to use as a fighting knife in defensive situations. When in use it's concealed mostly by the hand, with no excess steel or flair, leaving just the deadly claw protruding from the grip. A Karambit is meant to be nearly impossible to disarm. Our Karambit comes with the traditional finger ring that keeps it from slipping out of the hand while allowing the knife to be used at close and/or medium CQB fighting ranges simultaneously without changing the distance of the weapon hand from the body. This is allowed by the spinning double strike Karambit fighting technique, which also makes the Karambit the only blade that can cut twice with one strike. Effectively changing between close and medium ranges with little to no body movement. 
   The Bone Tactical Karambit has several other features that keeps it a step above the rest. Its ergonomics have been specifically molded to fit the hand in both full grip, and over-the-knuckles grip position. Precision jimping is integrally designed for both added grip and indexing by feel. Each Karambit ships in a modular kydex sheath that's as at home inside the waistband of your business suit as it is clipped onto one of our PC's in a combat zone. A revolutionary leather sheath that makes the unit luxurious, concealable, comfortable, and equally fast to access is also available for separate purchase (as are our IWB/OWB loop clips). Each leather sheath is completely hand made, with only the finest hand picked natural leathers, ambidextrous, and wearable both vertically or horizontally on the belt.
We also added a bottle opener to our Karambit (we were the first company to do so). We didn't just do this so you can whip out your Karambit and pop the top on your favorite bottled beverage among friends: The bottle opener on the back also serves to add traction for hooking and trapping movements when using the blade in line with modern knife fighting techniques. That's also why only one edge of the blade is sharpened, to be used in conjunction with the bottle opener for pulling/hooking/trapping limbs and joints when creating openings for follow up slashing. Apart from allowing for incredible martial arts flow, the single sharpened edge also makes it legal to carry in many more areas. Always check your local knife laws before carrying a blade.
   Every fully custom Karambit is a beautiful, hand-finished, collector quality piece that can be passed down through generations as an heirloom yet is still very capable of hard use. All Karambits are made from USA produced 3/16" thick steel. Due to the fact that our edged weapons and tools are completely custom, no two blades are the same. We are continually making minor improvements, as reports come back from the field via the Special Forces soldiers and OCONUS clandestine teams using our weapons in order to keep them the most effective fighting tools in the world. Therefore, your product will differ slightly from the pictures shown here.
*Orders often ship same day but always within two business days of purchase. Please contact the Post Office directly with concerns once your item has left our facility, up until your item leaves our facility you can e-mail LT@bonetactical.com with specific shipping questions. You'll receive tracking info via e-mail when your order ships. All sales are final.*
Bone Karambit Videos:
Modern Warrior Karambit Specs:
Total Package Weight: 4 oz.
Total Package OAL: 6.95"
Total Package Max Width: 3.5"
Minimum Blade Length: 2.2"
Finger hole: .94"
Blade width: approximately 1" to zero taper at point
Blade Steel: approx. 60 HRC 1095
Handle material: Bone Tactical Proprietary Jute Micarta
Finish: Natural Earth Tone Cerakote
Sheath: Bone Tactical Greyman Thermoplastic w/ Included OWB/IWB Attachment System
Presentation Case: Reclaimed Cedar, Hand Made, Fire Branded
Resolute Warrior Karambit Specs:
Total Package Weight: 4 oz.
Total Package OAL: 6.95"
Total Package Max Width: 3.5"
Minimum Blade Length: 2.2"
Finger hole: .94"
Blade width: approximately 1" to zero taper at point
Blade Steel: approx. 60 HRC 1095
Handle material: Old growth granadillo reclaimed from Central American Jungle
Finish: Natural Camo Patina with Cerakote Clearcoat
Sheath: Bone Tactical Greyman Thermoplastic w/ Included OWB/IWB Attachment System
Presentation Case: Genuine Spanish Cedar, Hand Made, Fire Branded