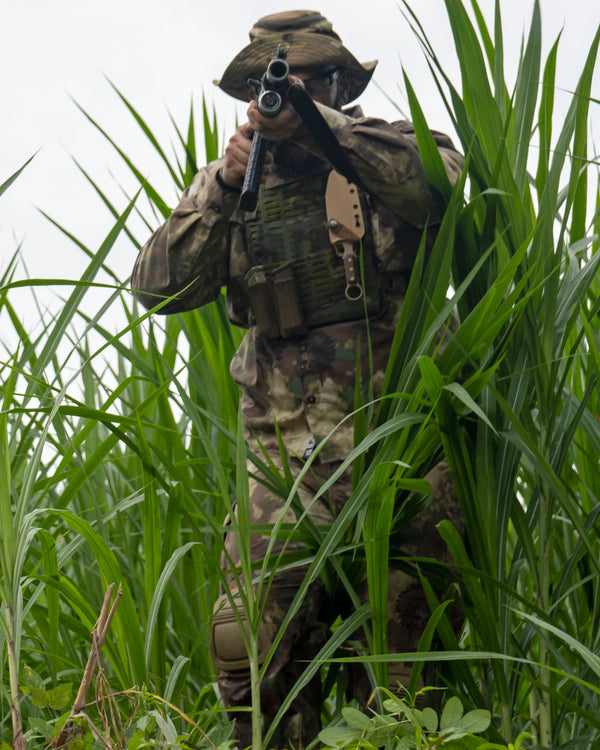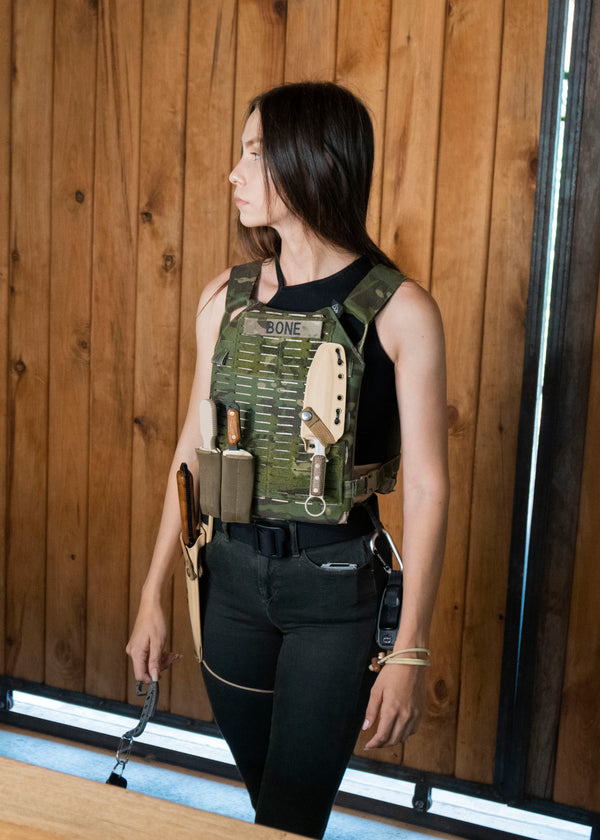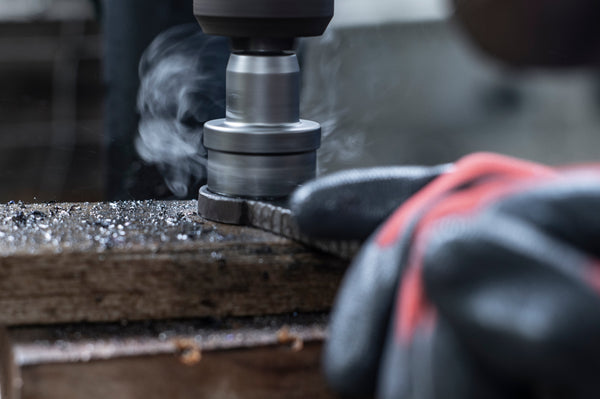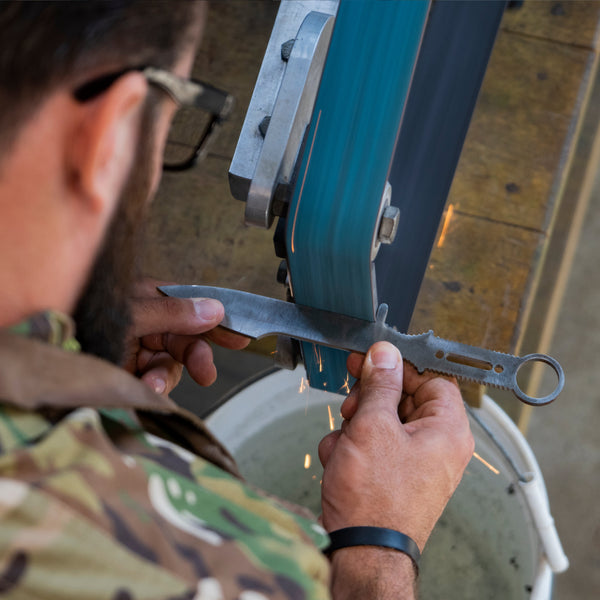 The Bone Neoteric Gladius is Greg's modern combat adaptation of the Gladius Hispaniensis, or "Spanish Sword". The Gladius was the right arm of one of the world's finest fighting forces for the nearly 200 years leading up to the birth of Christ. Interestingly enough, the Romans did not design this sword themselves, but rather adopted the design from a group of mercenaries they encountered in battle. At that time (over 2,000 years ago) the Roman Army relied on superior experience and training in hand to hand combat to maintain their world dominance. However, upon encountering these Iberian mercenaries in what is now Spain, they realized that they no longer had the best weapons on the battlefield. This ability to integrate better weapons into their training and quickly equip their forces with superior technology was another leading factor in what allowed them to be a so effective in combat. Likewise, the modern warrior needs to be able to adapt to the constantly changing world of modern combat in order to be effective and even to stay alive. 
   Our version of the Gladius was also specifically designed to be the best possible edged weapon for the modern warfighter. Like the Gladius of old ours cuts, slashes, stabs, and parries with ease. This Gladius, razor sharp like you've come to expect from all our custom knives, sports a dagger point for stabbing, a straight edge for utility work, and a re-curve edge for slashing. Because the blade is no longer a primary weapon in modern combat, the Bone Gladius is small and light enough to carry as a backup, with a modular sheath that can be worn or attached in a variety of methods.
   We integrated the time-proven hilt design of a ring pommel combined with a full fighting knife guard. Together, these features allow for an incredibly secure purchase in forward, reverse, and karambit style hand grip positions. The pommel hole is approximately 1" internal diameter. This allows most people to use the ring pommel as an index finger loop, even with gloves on.
   The handmade sheath comes standard with many original Bone Tactical features such as our signature thermoplastic, fully removable, double belt loop (which keeps the knife from flopping around when attached to a belt). It's also fully "jumpable" for our Special Operations personnel due to the nylon and elastic webbing secondary retention snap system ( also removable). This secure retention system means the knife won't fall out of the sheath no matter where you attach it or what you do. With the belt clip removed, the bronze eyelets can be used to attach any other type of loop or clip to the sheath, or to attach the knife system to nearly anything (molle bags, plate carriers, chest rigs, battle belts, etc). 
  Each custom knife is cut from the highest quality American made 1095 steel available. Every surface is individually ground, chamfered, sanded, and inspected right here in our own blacksmith shop. After months of working the steel to the proper tolerances, each blade is carefully inspected. If the blade is worthy, it's marked with the letters "BONE". If found lacking, the knife is destroyed, and we start over.
    We heat treat each knife one by one, with strict temperature regulation and adherence to a scientific formula that allows us to wring an incredible amount of strength, edge retention, and durability from every blade. Each Gladius is then tempered down to approximately 61 HRC and tested again. If the knives pass the metallurgy testing they are then sandblasted and finished in a natural earth tone powder coat paint to make them weatherproof. Once the knives have gone through surface treatment, we make jute micarta handle scales custom fitted for each with heavy duty bronze rivets. We attach the handle scales with double security, both 2-ton strength epoxy and the permanently locking Corby Rivets. We make a custom thermoplastic sheath for each knife and then put a final edge on the blade before inspecting a third time, applying white lithium grease, and packaging the knife to be available for sale. If the knife will not cut hair it gets scrapped, shaving sharp guaranteed. We recommend keeping your blade clean and well oiled, if you do, it will last many lifetimes of hard use. 
Bone Neoteric Gladius Videos:
Specs:
Total Package Weight: 9 oz.
Total Package OAL: 10 3/8"
Total Package Max Width: 3" (2 7/16" without belt attachment)
Knife Maximum OAL: 10"
Minimum Blade Length: 5 1/8"
Minimum Blade width: 3/4" (1 3/4" at guard)
Maximum Handle Thickness: 14/16"
Maximum Handle Width: 1 1/8"
Maximum Handle Length: 4 1/2"
Pommel Hole ID: 1"
Blade Steel: 3/16" 1095 high carbon approx. 61 HRC