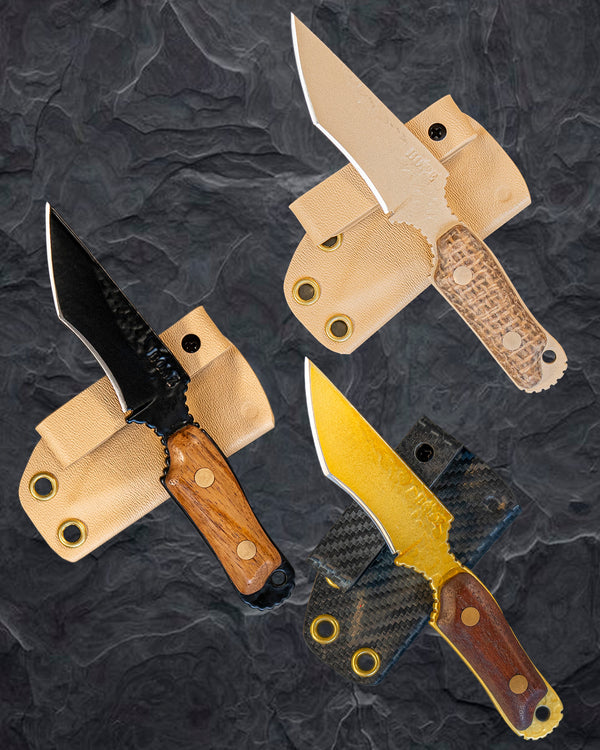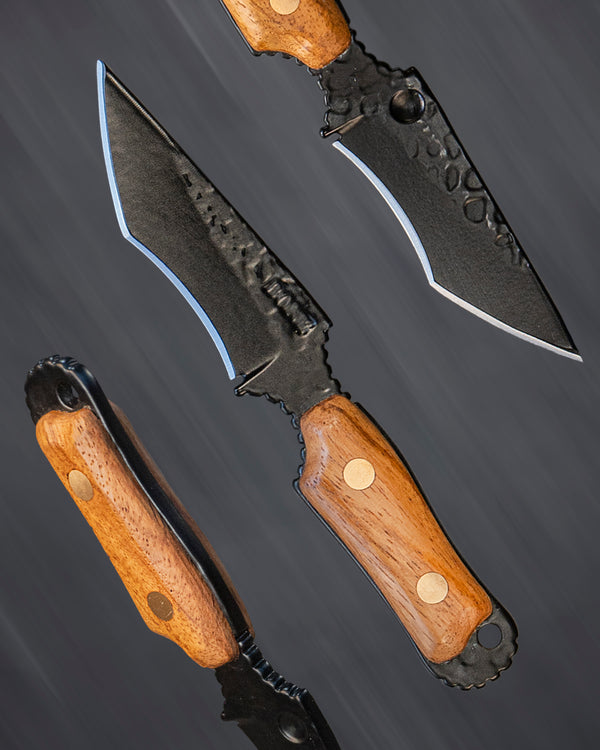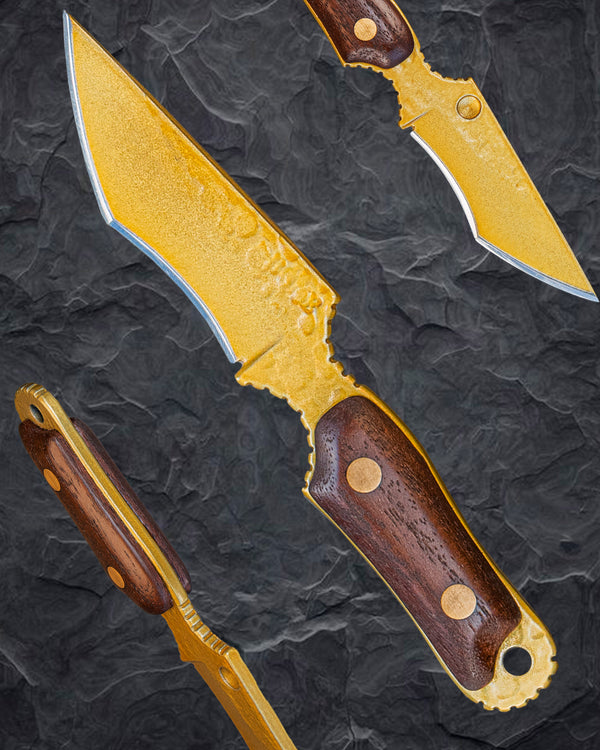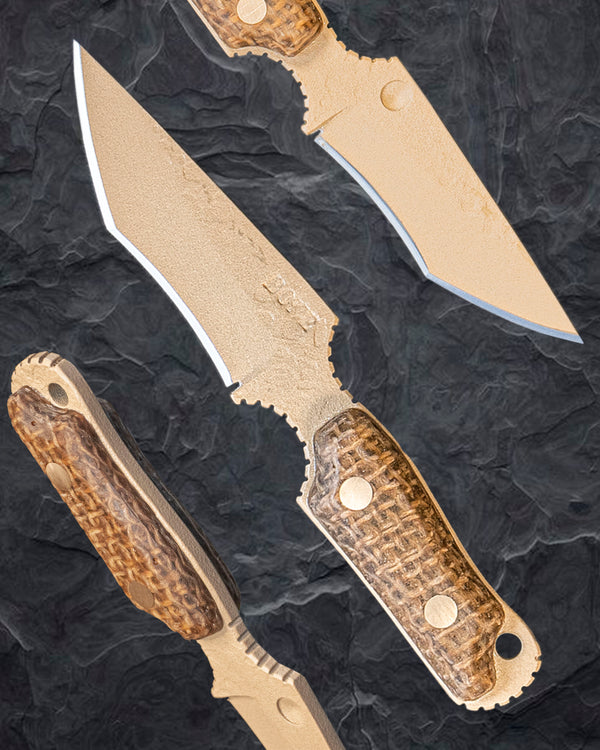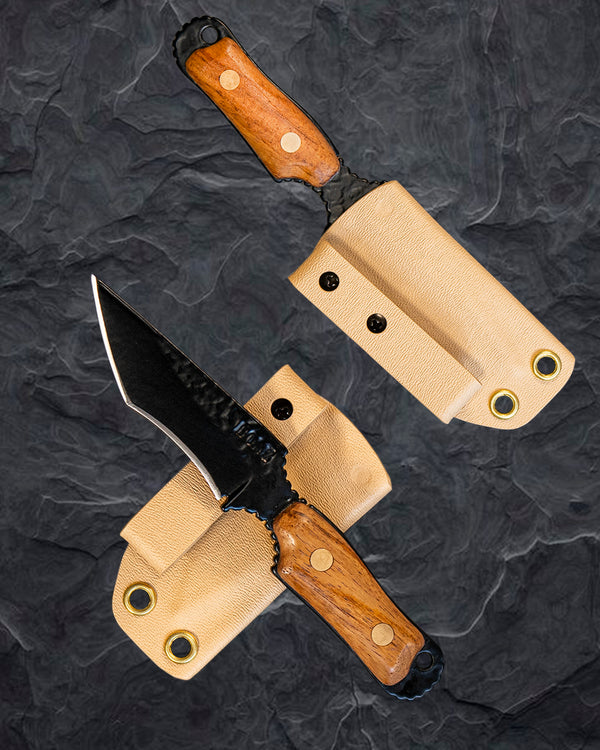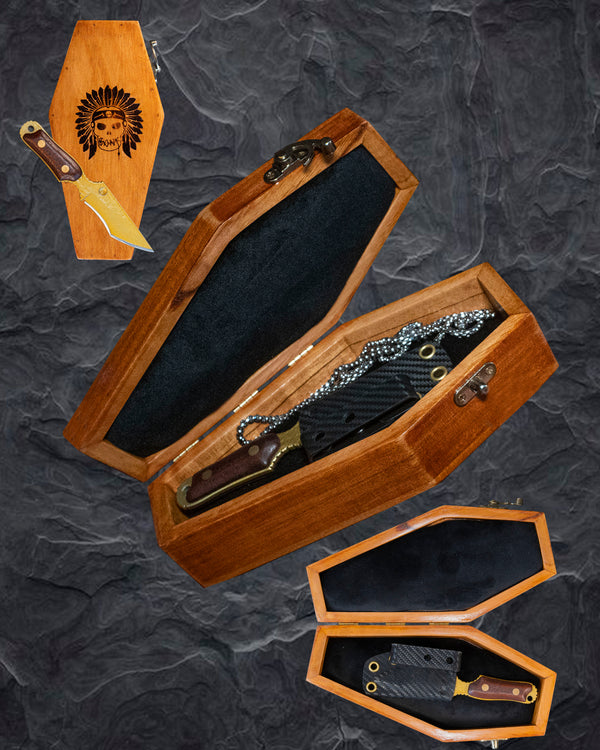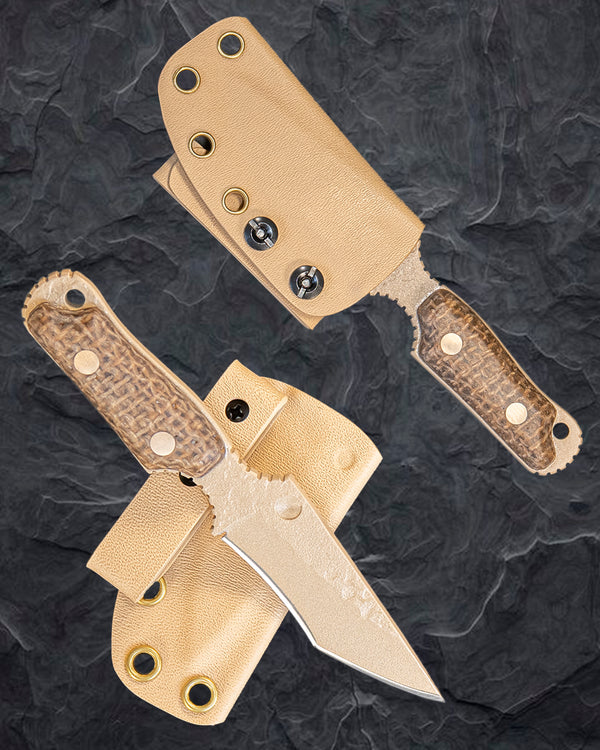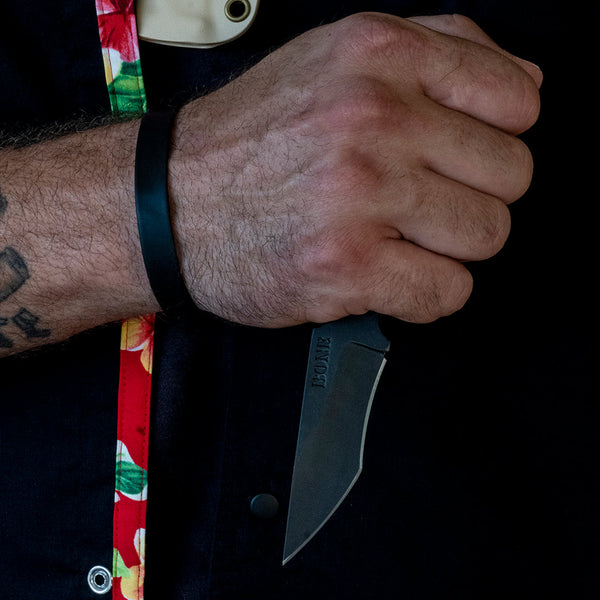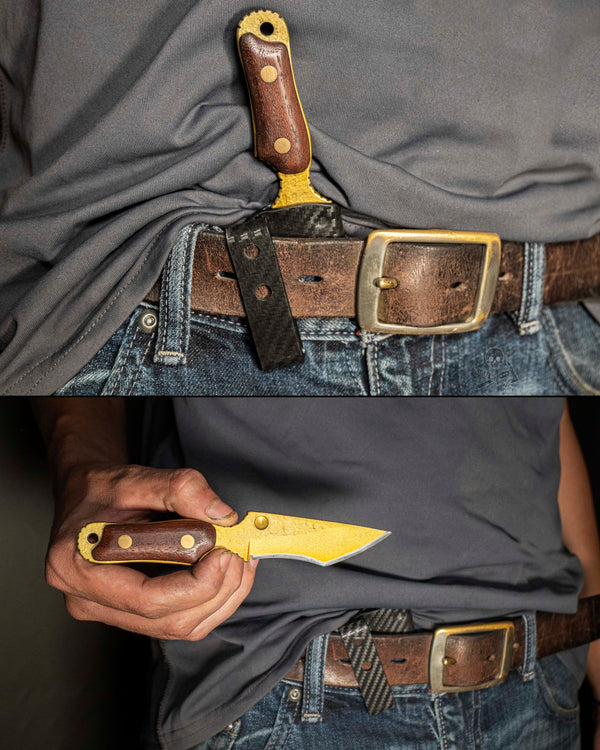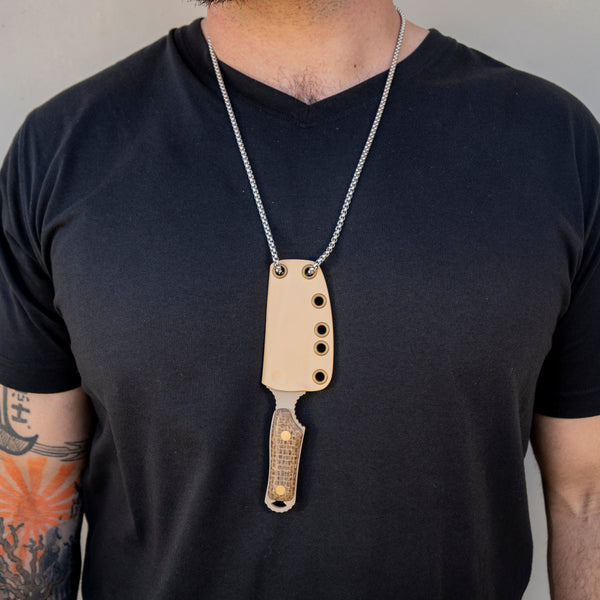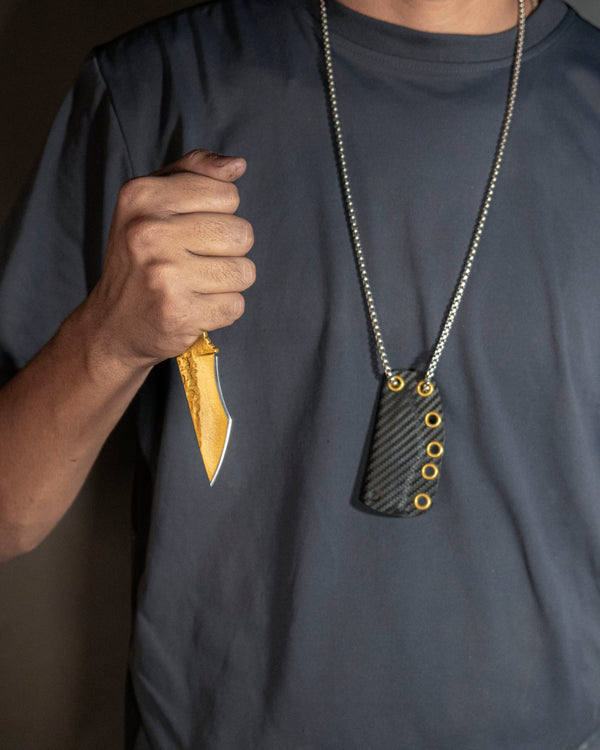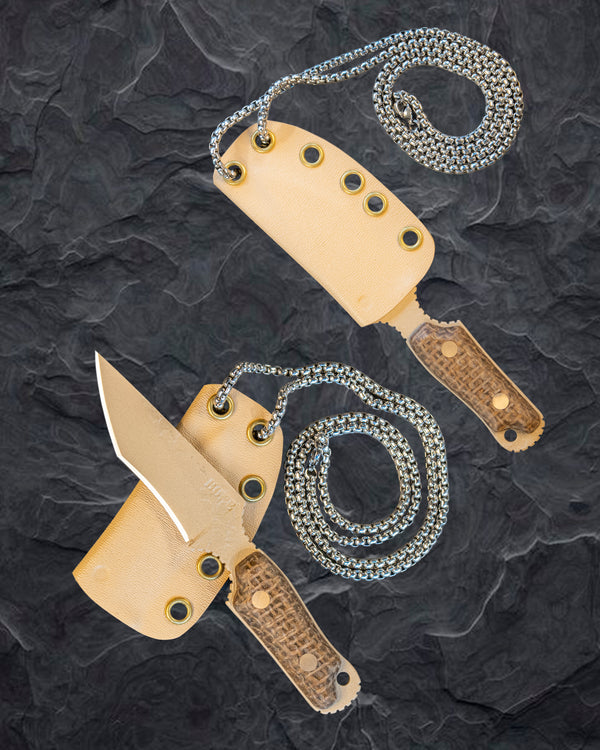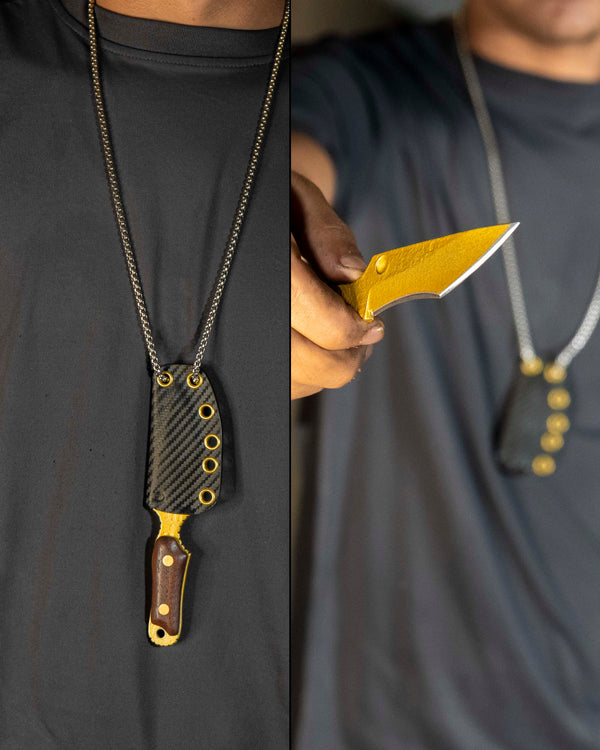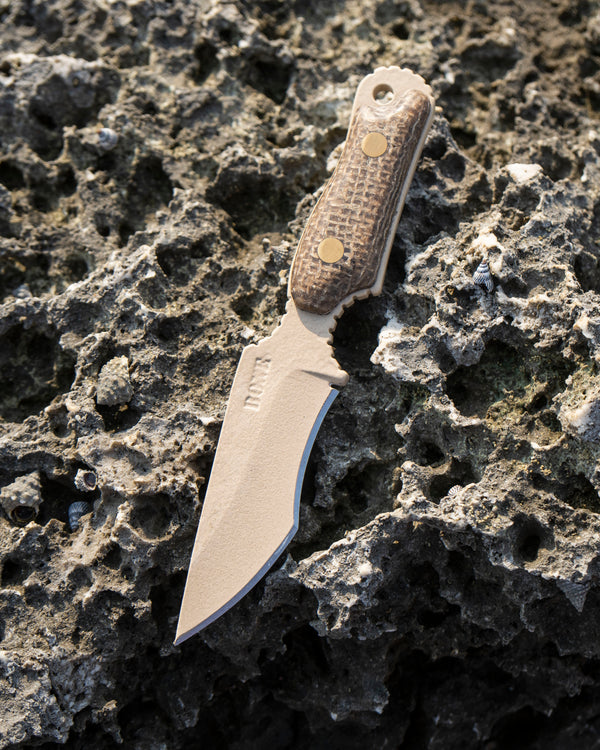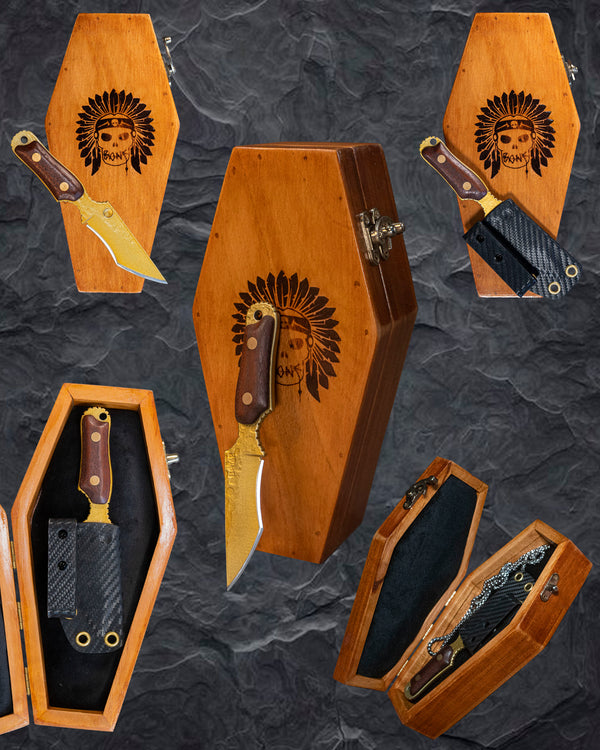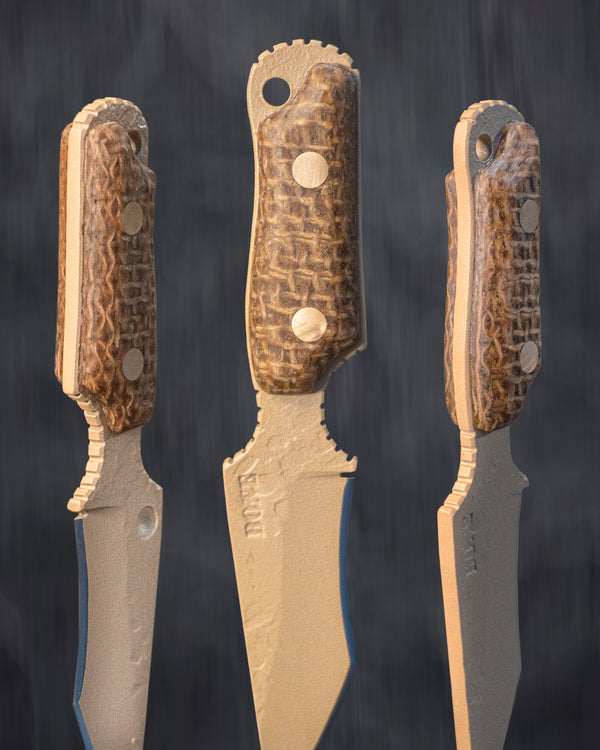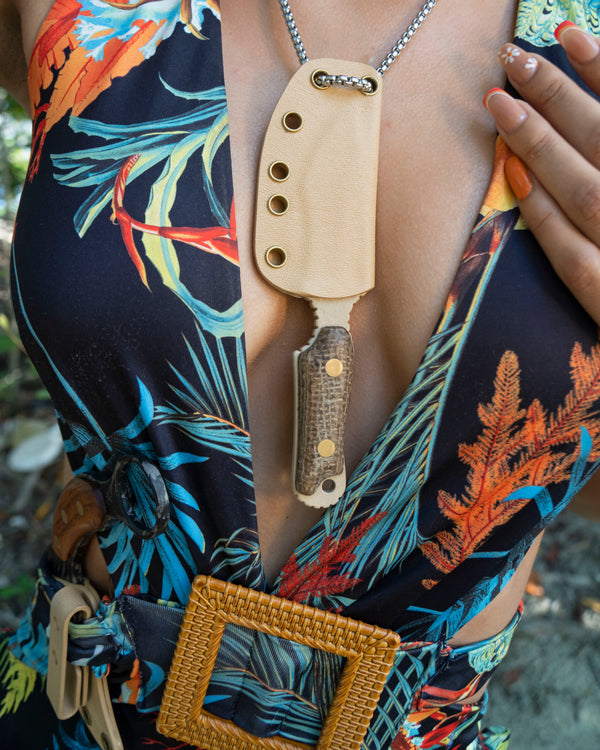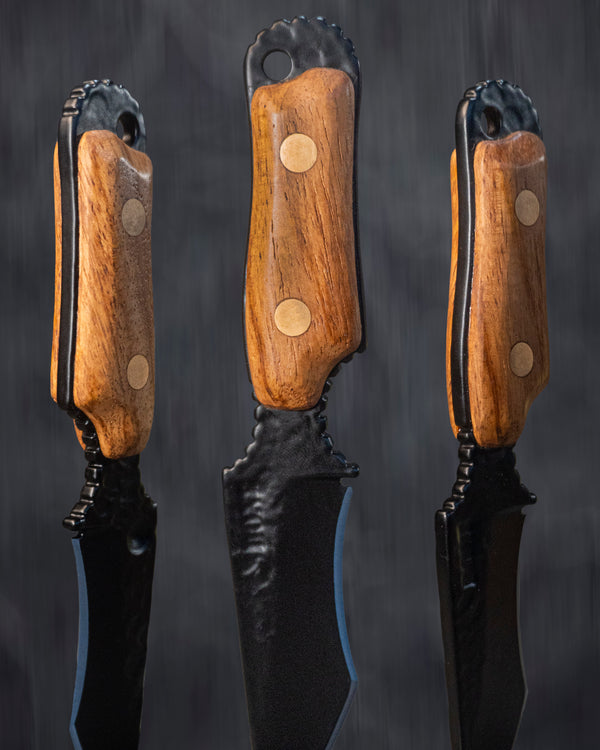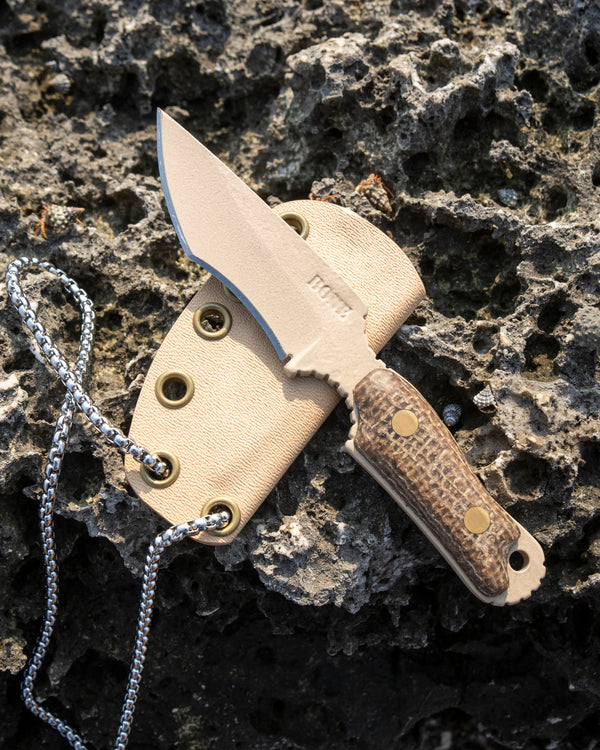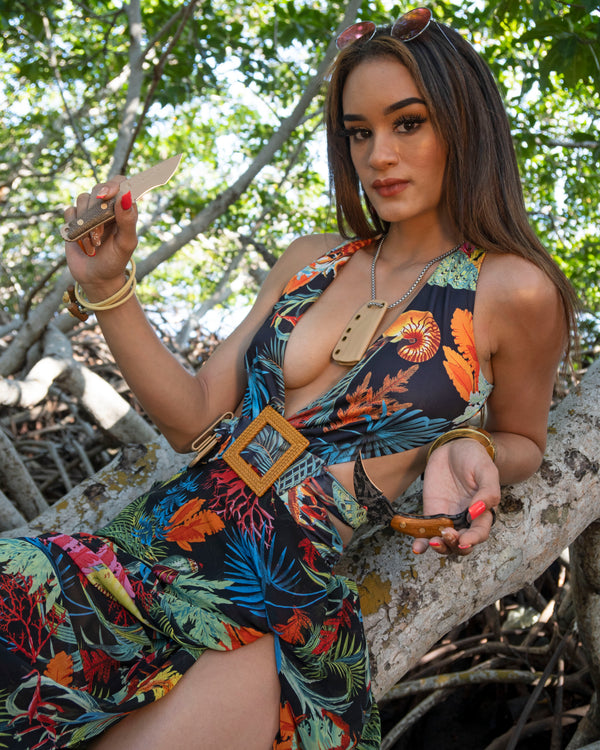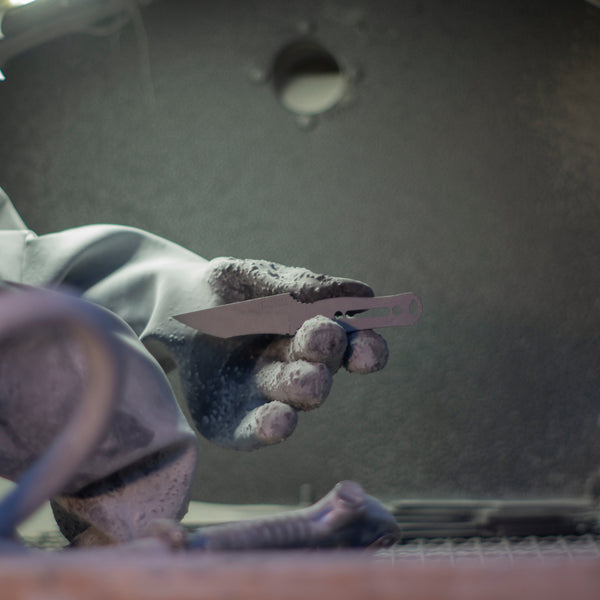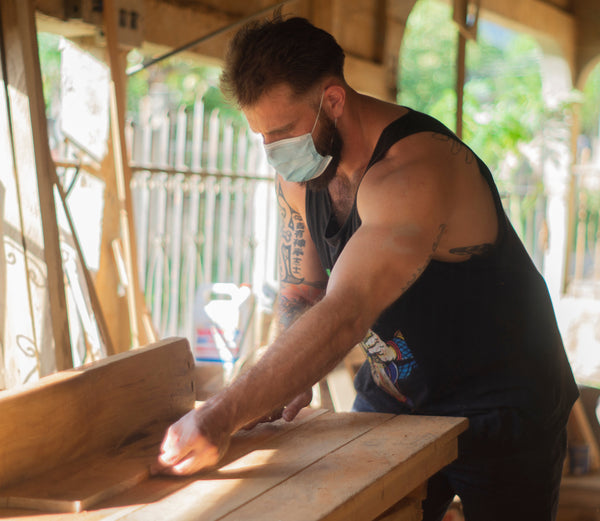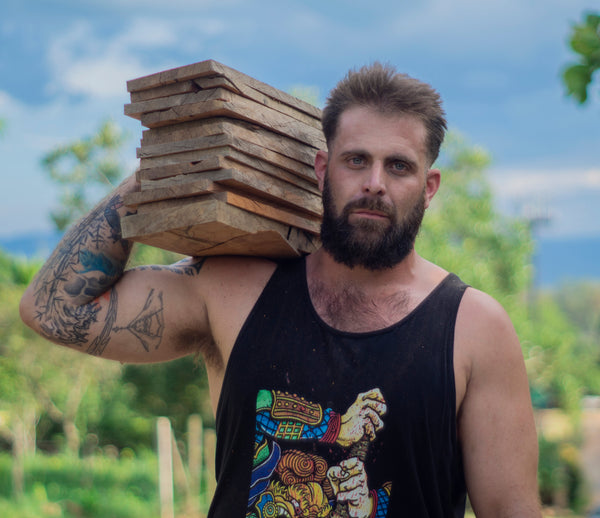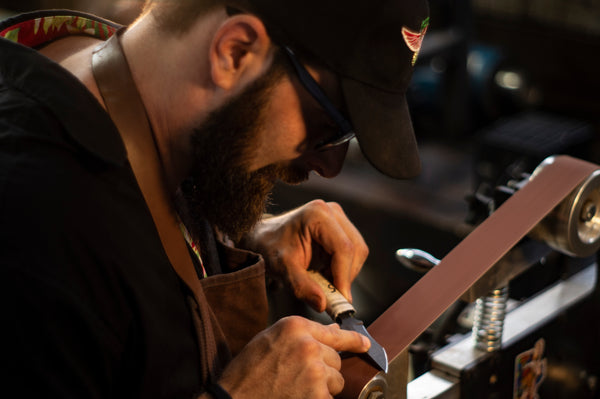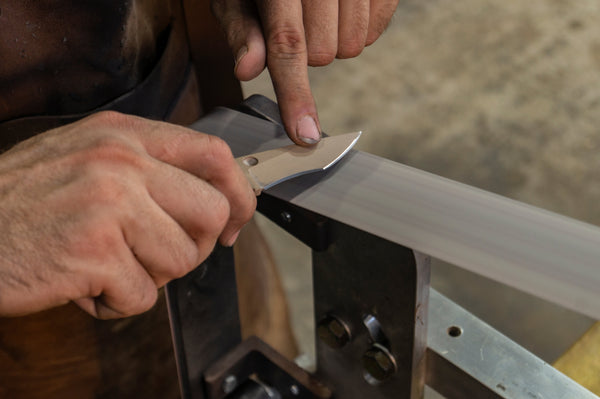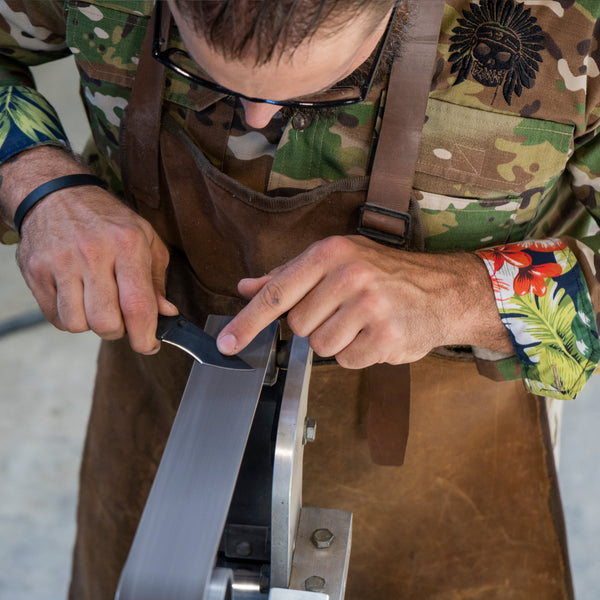 The Bone Tactical E.D.C. C.A.N.K. (Everyday Carry Combat Application Neck Knife) is the most effective handmade, fully concealable, full custom edged weapon ever designed or produced. It fills the void in the market between traditional full size "fighting knives" that can't always be properly concealed and traditional neck knives that are too small or clumsy to be effectively used as weapons. The CANK is large enough to be combat effective, yet small enough to be concealed comfortably and undetected. Greg designed this incredible blade off the principal of the best weapon being the weapon at hand, but the C.A.N.K.'s ease of carry and concealment is only the first of many unique attributes which make it such an essential tool.
   The superior design of the C.A.N.K. affords it the combat potential of other fighting knives nearly twice its size. To be fully "combat effective", a spear point or clip point knife such as this should possess a cutting edge of at least 2.5 inches. This is due to the depth of vital veins, arteries, connective tissues, and organs in the human body as well as the many variables that occur in a close-quarters combat situation. The Bone C.A.N.K. has a cutting edge of 2 ¾" (we always go above and beyond minimum requirements).
    At the most basic level, an edged weapon has two primary uses: slashing and stabbing. Due to its unique blade profile (recurve grind), the E.D.C. C.A.N.K. does both extremely well. It also performs exceptionally in both forward and reverse grip to aid a variety of martial movement patterns in line with many knife fighting styles.
    The next indicator of an effective edged weapon is the grip, yet another area where the EDC C.A.N.K. is lightyears ahead of the competition. A large grip or pointed pommel like you'll see on other popular knives makes them too bulky to conceal without "printing" (showing through clothing). Large, rough, pointy, or overly textured handles often cause lesser blades to become very uncomfortable to carry or use (as they could rub, poke, or chafe the person carrying them). It's important that your carry knife is comfortable, so that you'll actually carry it, and therefore have it when you need it!
    There are some knives on the market with a small grip or handle area that do conceal well but many are unsafe to use under stress (due to insecure purchase on the small handle that can cause potential damage to the user). The C.A.N.K.'s superior grip design is small enough to fully conceal but also able to offer the operator a secure grip. Some of the innovative design features that make this possible are the deep half-moon finger groove, strategically placed jimping, and the natural ergonomic swell of the tang. This helps prevent the user from losing the knife (slashing, chopping, or removing from an object it's deeply imbedded in). The CANK's groundbreaking grip design also helps prevent the user from accidentally cutting oneself (by the hand sliding forward and contacting the cutting edge). The EDC CANK's handle is built to remain steadfast in hand, even if one's hands become wet or slippery.
   Not just any knife worn concealed on one's person can be a truly effective self-defense tool. It's important to understand the multiple factors at play before choosing a knife to carry for its self-defense potential. Carrying a knife on a necklace is the easiest way for anyone to ensure they always have a blade, but a neck knife capable of elite clandestine use must also be capable of being worn without detection, even under a light T-shirt. The type and material of the necklace is of great importance here, and another small detail we've gone to great lengths to get right. The CANK, worn properly, will not be recognizable as a knife to anyone around you.
    For most individuals the maximum overall length of a concealable neck knife is around 6 inches (as anything over this length will likely "print" badly). Width profile and thickness are also a consideration. A neck knife with a bulky handle will limit concealability.
     We've gone with our proprietary jute burlap Micarta handle scales in the "Modern Warrior" configuration. The Micarta scales are slightly thinner than the exotic hardwood scales we use in both the "Resolute Warrior" configuration and the "High Roller" edition. Both handle scales feature the same comfortable and aesthetically pleasing contour. Our slimline, minimalist thermoplastic sheath is only possible because we designed the retention point into the blade itself (something else we were first to introduce to the edged weapons industry). This integral retention point allows the total package to be extremely small and concealable while at the same time safe for the end user (the knife won't come out of the sheath on its own), and fast to access (like a good, fixed blade knife should be). The C.A.N.K. is all the weapon you need, and none of the flash or bulk that you don't.
   We have found that keeping these knives 100% made in house from our proprietary premium blade steel allows us to avoid the problems and discrepancies seen from other makers who "farm out" parts of the work (like heat treat). By developing our own super steel that no other knifemaker is able to use we've managed to corner the market and guarantee that our blades are truly the world's most effective. Bone Tactical Super Steel displays unparalleled toughness, incredible sharpness, and mind blowing edge retention. Martensitic transformation allows us to get the exact desired Rockwell hardness. From quench to temper, our extreme attention to detail and strict adherence to the science of metallurgy is what ensures that our knives won't ever break or chip under normal use.
    The overall quality, fit, and finish of the Bone C.A.N.K. is that of a fine work of art. We hand grind every knife individually in multiple phases with various bevels and precision angles. Our exacting edge geometry ensures an incredible balance of both sharpness and toughness.
    These blades are currently available in three configurations: "Modern Warrior", "Resolute Warrior", and "High Roller". These knives are coated with some of the most durable metal coating techniques known to man and offer a long lifespan of protection against the elements. Available in the natural colors of our Modern Warrior configuration, the near black "dark patina" color of our Resolute Warrior configuration, and the gold plated look of the "High Roller" edition. Our knives now available for sale are the result of lives of experience, extreme attention to detail, martial proficiency, and years of prototyping before they ever reach the website.
    The Modern Warrior configuration is the exact setup we originally designed for U.S. Special Operations. If you choose to purchase a Modern Warrior style blade, you'll have the ability to carry and use the same edged weapons that some of the most dangerous men alive using in some of the most dangerous areas of the world. This tough and durable finish sports a color scheme that mimics both human skin tones and a broad array of natural environments, offering the user both concealment options and camouflage abilities. The handles are a Bone Tactical blend of Micarta we make by bonding burlap coffee bags together with high strength epoxy resin. The result is a handle scale that exudes rustic beauty while being tougher and more durable than even the strongest wood on the planet. It provides a great waterproof grip whether your hands are wet, dry, or bloody. It isn't negatively affected by heat or cold, and it won't crack, swell, chip, or break if used as designed (not designed to take small arms fire, even though we do shoot them during batch testing as you've probably seen in our videos).
    All blades come ready to be worn with a stainless-steel neck chain. We use stainless steel chains because they don't rust or corrode, they don't scream "I'm tactical and have a weapon", and they are a classier alternative to wearing paracord around your neck. Our neck chain will break if too much tension is applied (like if someone is trying to strangle you with your necklace or if it gets caught in a machine/heavy equipment).
    Our "IWB" loop is another great carry option, included with the knife at no additional charge, and is a simple belt attachment that allows the CANK to be worn comfortably on the waistline.
  We modern humans can't pretend to have invented the art of creating fine edged weapons, no, these processes were perfected long ago… by long gone yet resolute warriors. Our Resolute Warrior series of blades embodies the best of the last 5,000 years of combat arms. We combine the look, feel, and soul of the ancient battlefield with our state-of-the-art production techniques... Now you can also experience the patina steel of the Vikings, sense the Samurai resolute acceptance of death reaffirmed in possessing of one of the world's most effective edged weapons, and feel the exotic hardwoods in hand that were once prized by Aztec eagle warriors. Our modern protective finishes and advanced construction processes combined with the look and feel of the lost world's warfighters bring you a Resolute Warrior style weapon that will be just as at home in a display case as it will on today's battlefield.
    We ship this knife with an included plethora of carry options at no extra charge: stainless steel neck chain, Boltaron IWB clip, and thermoplastic sheath. The EDC CANK leather sheath is sold separately (and fits all models). Both sheathes are fully ambidextrous and individually handmade (like everything else). The leather sheath has a snap retention and can be worn horizontally or vertically on the belt. The Boltaron sheath is custom molded for each blade with a retention of between 1 and 5 lbs. The thermoplastic sheath is primarily designed to be worn around the neck with the included stainless steel chain but can also be worn inside/outside the waistband, or just about anywhere you decide to secure it via the eyelets that are standard ¼" hole size, spaced in ¾" on center in pairs.
   Carrying this knife in the intended manner may not be legal in your area. Please check your local knife laws before attempting to use or carry this potentially dangerous weapon. Due to the fact that our edged weapons and tools are completely custom, no two blades are the same. We are continually making minor improvements as reports come back from the field via the operators using our weapons, in order to keep them the most effective fighting tools in the world. Furthermore, each and every knife is individually hand made. This means the item you purchase from us will differ slightly from the pictures shown here.
 EDC CANK VIDEOS:
Modern Warrior EDC CANK Specs:
Total Package Weight (knife and sheath): 3.3 oz.
Total Package OAL (knife and sheath): 6.75"
Total Package Max Width (knife and sheath): 2"
Minimum Blade Length (cutting edge) : 2.75"
Blade width: 1"
Blade Steel: approx. 61 HRC Bone Tactical Super Steel
Handle material: Proprietary Micarta
Finish: Beige Powdercoat
Sheath: BT Greyman Thermoplastic w/ Stainless Steel Neck Chain & IWB Belt Carry Clip
Presentation: Wrapped in Bone Tactical Shemagh
Resolute Warrior EDC CANK Specs:
Total Package Weight (knife and sheath): 3.3 oz.
Total Package OAL (knife and sheath): 6.75"
Total Package Max Width (knife and sheath): 2"
Minimum Blade Length (cutting edge): 2.75"
Blade width: 1"
Blade Steel: approx. 61 HRC 15N20
Handle material: Rare variety of Granadillo reclaimed from Central American Jungle
Finish: Faux patina polymer resin
Sheath: BT Greyman Thermoplastic w/ Stainless Steel Neck Chain & IWB Belt Carry Clip
Presentation Case: Genuine Spanish Cedar, handmade, fire branded wood box (included)
High Roller EDC CANK Specs:
Total Package Weight (knife and sheath): Approx 3.3 oz.
Total Package OAL (knife and sheath): 6.75"
Total Package Max Width (knife and sheath): 2"
Minimum Blade Length (cutting edge): 2.75"
Blade width: 1"
Blade Steel: approx. 61 HRC Bone Tactical Super Steel
Handle material: Purple Heart wood reclaimed from Central American Jungle
Finish: Polymer Resin Simulated Gold Plating
Sheath: BT Greyman Thermoplastic w/ Stainless Steel Neck Chain & IWB Belt Carry Clip
Presentation Case: Genuine Spanish Cedar, handmade, fire branded COFFIN CASE (included)