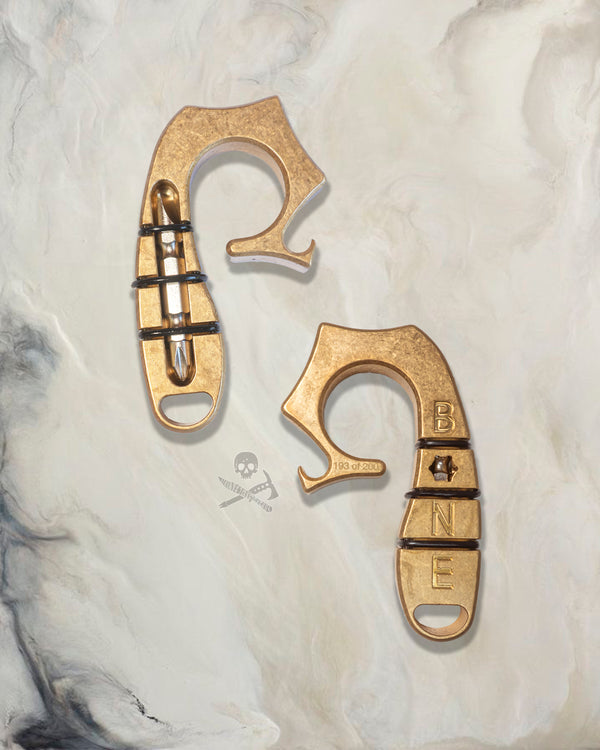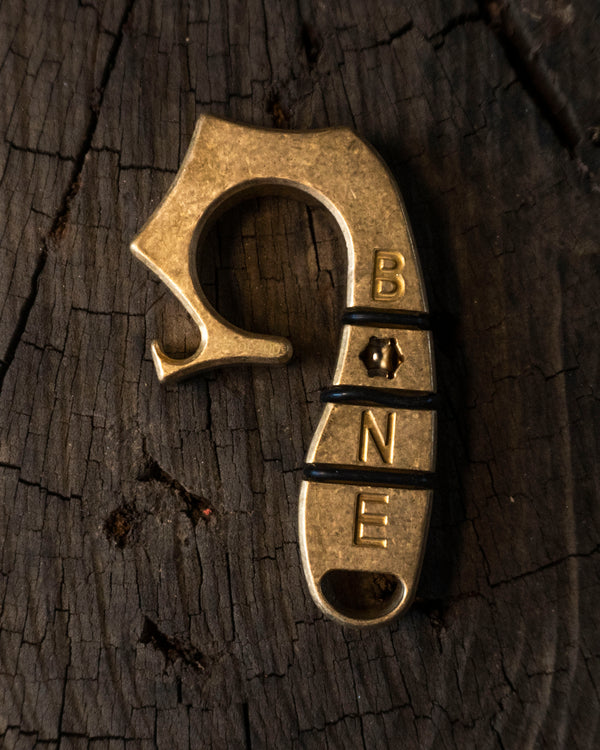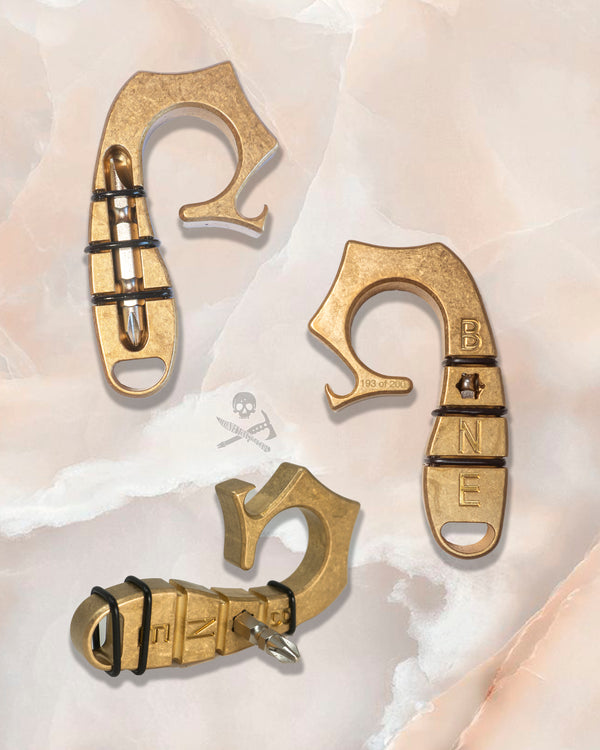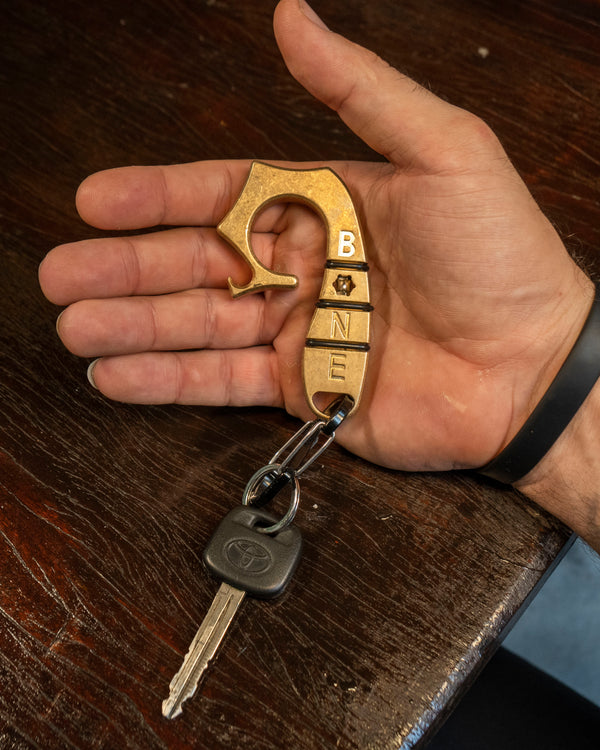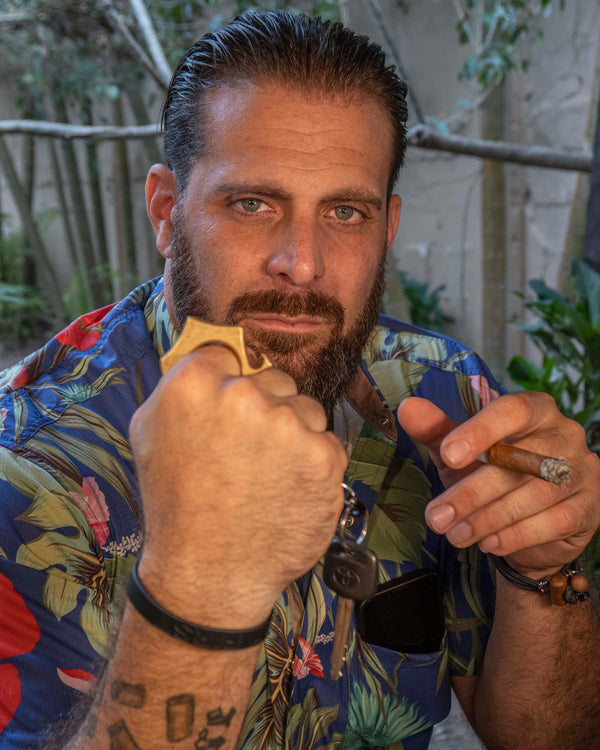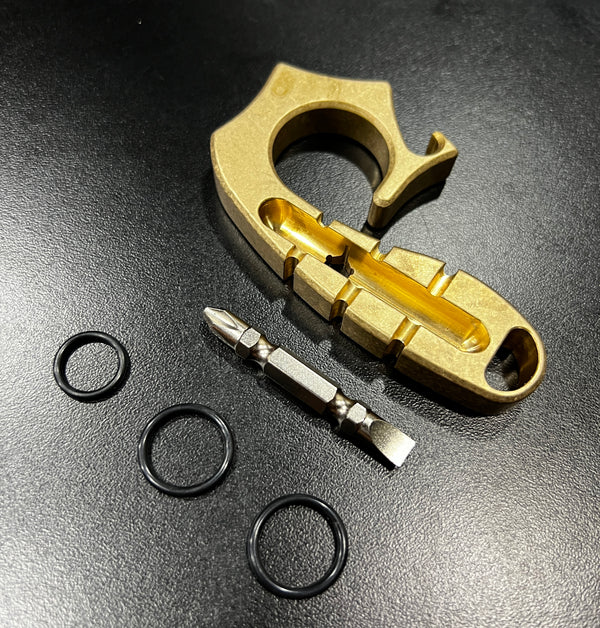 Bone Opener Micro's are bottle opener key-chains designed as every-day carry tools for modern Americans living in today's environment of political climate change. As gun free zones and weapon restricted areas continue to expand it becomes increasingly difficult for law abiding citizens to defend themselves. We designed the new micro as an EDC (Every Day Carry) tool that is as unassuming as it is low profile. Many previous customers have even brought their Bone Breakers through TSA airport security (thousands to date), making this line of covert carry tools the most effective ever designed or produced that one can carry on a commercial airline! This Micro is primarily a key-chain multi-tool designed to keep ones keys organized and accessible (be sure to specify that if questioned by authorities). Anything can be used as a weapon, some things just fit the hand better than others!
Each key-chain features a bottle opener, hex wrench, phillips and regular screwdriver bit, a built-in slot that allows it to slip into and over a garment pocket (keeping your keys safe/organized) with the index finger loop oriented upright for quick access. In the absence of pockets it can even be worn inside the waistband (think running or bike shorts).
Women will find this to be an excellent self-defense tool because the most high risk situations for a woman are also times when they'd be likely to have their keys in hand: To and from ones vehicle, or to and from ones place of residence. Carrying the key-chain in hand, at the ready, during these increased times of danger could also give a woman the upper hand against a would be attacker. The pocket loop even allows ladies to hang their keys in a purse pocket for easy retrieval.
  The Bone Opener Micro is a smaller clandestine version of the full size Bone Breaker designed for extremely non-permissive environments. Although it is smaller than the other Bone Breakers, it still is a one size fits all tool, and can be used/carried by anyone. There may be times when anything in your possession could be used to profile you, your intentions, and even your skill-set. For those worried about being profiled by their key-chain, the MICRO is for you! This bottle opener keychain has the ability to become a force multiplier and potentially save your life or the life of a loved one in a bad situation.
  We all need a tool for daily carry like the Micro due to the imbalance of the current system of checks and balances in our great Nation, as well as the shortcomings of our justice system. Unfortunately, the way laws are written (even reasonable self-defense laws), are not always how they are enforced. Take it from someone who's been there, if you have to use potentially deadly force to defend your life against an attacker, there's a good chance you'll still be arrested. If you're lucky and don't get arrested, but don't kill your attacker, there's an even higher chance you'll be sued. This is where the Opener comes into its element. A violent crime occurs every 7 seconds in the US (a conservative estimate), therefore it's highly likely you'll some way be involved in a violent crime in your lifetime. If you are attacked or assaulted without a way to defend yourself, you could be hurt, robbed, sexually assaulted, killed, or all of the above. If you are attacked or assaulted and use a gun or knife to defend yourself, even in a situation where the law is in your favor, you could still spend the rest of your life in prison. If you are in an area where weapons are restricted, then a tool like the Bone Breaker could be the only legal means to defend yourself. If you have to use your Bone Breaker key-chain to defend yourself, and worst case scenario you're still arrested, you'll have a much better chance convincing a Jury of your innocence if you used your key-chain to defend yourself. Unfortunately, there are many innocent men in prison because a prosecutor convinced a jury he was out looking for a fight simply because he had a gun or knife in his possession.
  You do not need any training whatsoever to use a Bone Opener Micro for self-defense. Even though it is not a weapon, any way you flail your arms with one in your fist, gives you the potential to save yourself and your loved ones in an emergency, all the protecting the fragile small bones of your hand from injury upon impact. Although you don't need training to be dangerous with a Bone Breaker, it was a lifetime of training and experience that lead to this revolutionary design. Just like the Bone Karambit, the index finger loop of the Micro provides 100% positive retention so you won't lose this tool during use. Even if you forget to hold on tight during the adrenaline rush of a fight or flight response, the Bone Breaker will stay in your hand when you need it most. The ridges, crests, angles and points of this tool are not there by chance. The increase in energy transfer between striking with the bare fist vs. an object in hand is vast and well documented. When used as a weapon this key-chain is extremely effective and potentially deadly. Please do not underestimate the damage this tool can inflict if used as a weapon (which we do not recommend doing). We've already discussed the retention provided by the index finger loop, but the points of its metal crown greatly concentrate strike force in ridge hand, jab, cross, hook, overhand, and uppercut strikes. This means the concentrated impact of these strikes is many times more powerful with a Bone Opener Micro in hand. In layman's terms, it makes your punches more devastating than an elite MMA fighter. This is, again, why we ask you please not to use this key-chain as a weapon.
  The index finger loop and center shaft of the Micro helps protect the small bones of the hand from impact fractures that commonly occur during striking (see "Boxer's Fracture"). The main shaft of the tool fills your hand when held correctly, and helps to protect against these fractures by supporting the metacarpal bones with solid brass. Even the elite fighters mentioned before are likely to suffer "broken knuckles" when punching bare-fisted. When holding the Micro, your keys also become part of the tool by protruding from the bottom of your fist, bestowing protection on the the butt of the hand, and becoming an extreme force multiplier by increasing impact power for ridge/hammer fist strikes. The same impact crests can also be used to manipulate pressure points in situations that are not life threatening.
Big, bad, and bronze. Solid brass actually, quite heavy (specs below), beautiful workmanship, and finally available for sale! If you want heavy, our famous attention to detail, and something reminiscent of the original "brass knuckle" days... this is the tool for you! The craftmanship is second to none and the stonewashed finish makes the new Bronze Micro an heirloom quality collector's piece that can be passed down your family legacy for generations.
   *DISCLAIMER: If you are a lawyer, judge, police officer, prosecutor, a member of a jury, or otherwise part of the broken justice system of the United States of America we'd like to point out to you that this is simply a bottle opener keychain. It is not designed to be used to defend ones life or property in the event of an attack (even though that right is protected by the Constitution). It is not designed to be used as a weapon, and we do not recommend violence to anyone (although it's the only reason we're still here to offer these badass tools). The Bone Tactical Bone Breaker is designed implicitly to hold ones keys in an organized manner and aid in opening capped beverages. Please check your local laws before purchasing, and proceed to break them at your own risk if you feel that your unalienable right to defend yourself as a human being supersedes trivial Constitutional infringements.
​   *Orders often ship same day but always within two business days. You'll automatically receive an order confirmation e-mail when your order goes through, and then another e-mail with tracking info once it ships. Please e-mail LT@bonetactical.com with any questions regarding shipping or your order. All sales are final.*
Specs:
Bronze Bone Opener Micro:
​Weight: 5.4 oz
Thickness: 7/16"
Height: 3 & 7/16"
Width: 2"
Material: Bronze