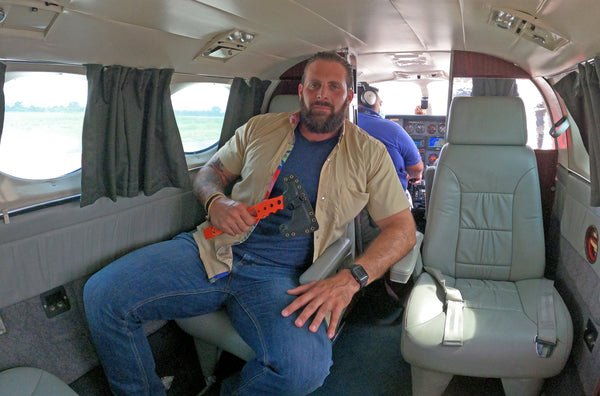 Our Search & Rescue Tomahawk is a slightly shortened version of the standard Bone Hawk designed specifically for first responders. Coated in Cerakote safety orange for high durability and visibility. The rear hammer spike is great for breaking glass, and the bottom point is a pry bar. It can easily cut through the light metal outer portions of cars, boats, and aircraft. The attached 550lb cord is survival paracord that contains a fire starter and fishing string weaved into the inside strands. A compass is attached to each hawk. The sheath is "jumpable" for aircraft insertions, dual retention carbon fiber boltaron.
  Solid, one-piece, 5/16" thick, differentially triple tempered 4140 chromoly steel construction makes the SARHAWK virtually unbreakable. Our tomahawks are by far the strongest tomahawks on the market today. A shaft hardness of approximately 30 Rockwell gives our them excellent handle spring and flexibility. This means the hawk won't transfer energy into the hand when striking hard objects, thereby preventing hand injuries and limiting loss of your weapon. The contact surfaces being in the mid to high 50's on the Rockwell scale means your tomahawk wont chip or break when striking hard objects.
  The SARHAWK is small enough for an operator to carry on their person, and fits great in almost any backpack. It also makes a great survival tool to keep in your vehicle. Aside from being tie down and attachment points for a secondary retention system, the host of eyelets surrounding the sheath can be used to attach nearly any aftermarket clip, hook, or loop desired. Greg recommends using Thomas & Betts Ty-Rap high performance cable ties with steel inserts to affix edged weapons to your kit. The sheath and hawk are also designed so that the hawk can be used as a less-lethal form of self-defense while the sheath is still attached. The sheath can be quickly removed if the situation calls for lethal action. Leather drop-leg belt sheathes are also available for separate purchase.
*Orders often ship same day but always within two business days. You'll automatically receive an order confirmation e-mail when your order goes through, and then another e-mail with tracking info once it ships. Please e-mail LT@bonetactical.com with any questions regarding shipping or your order. All sales are final.*