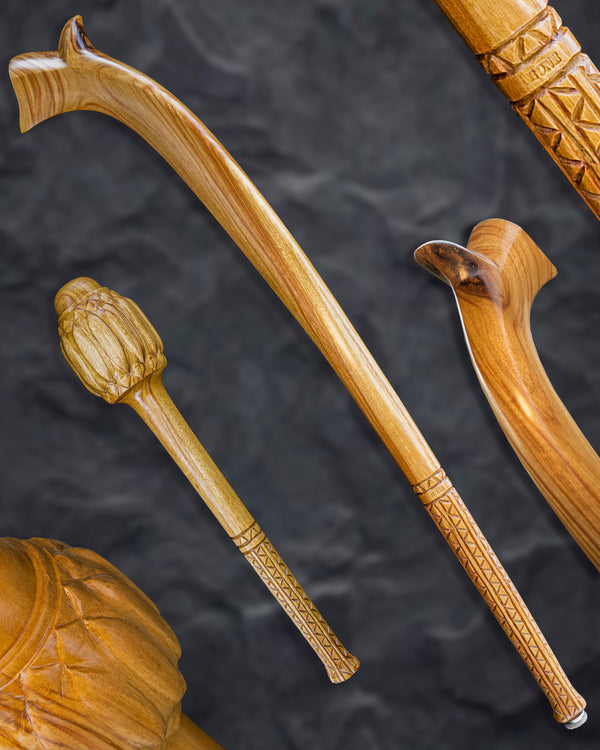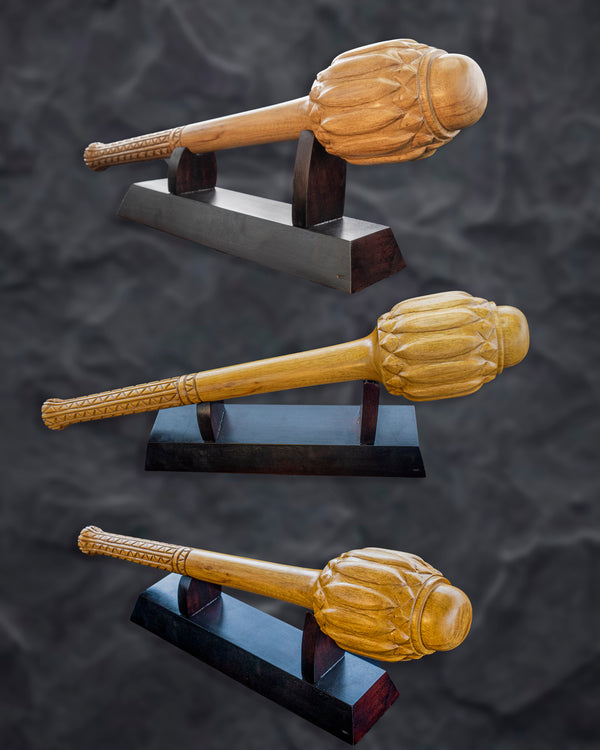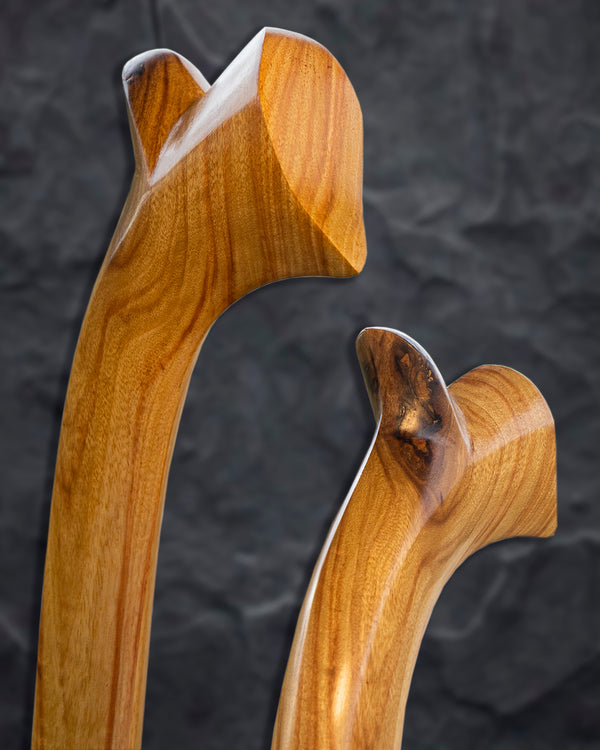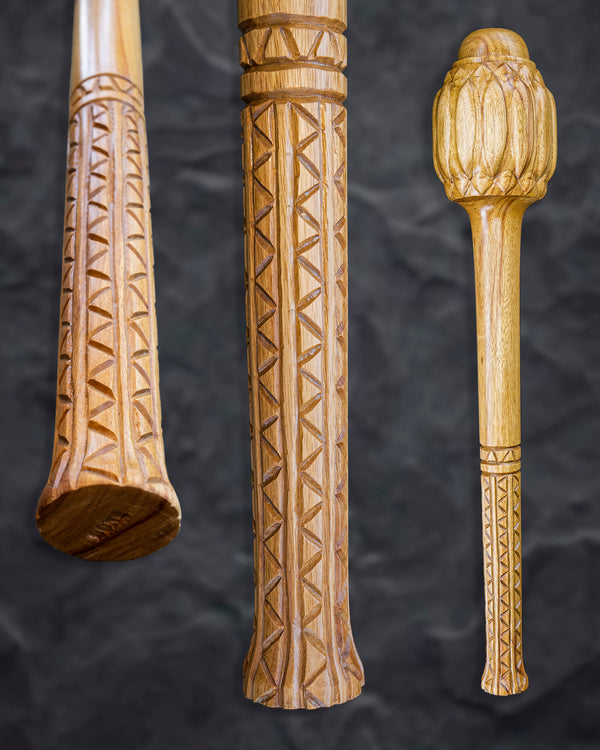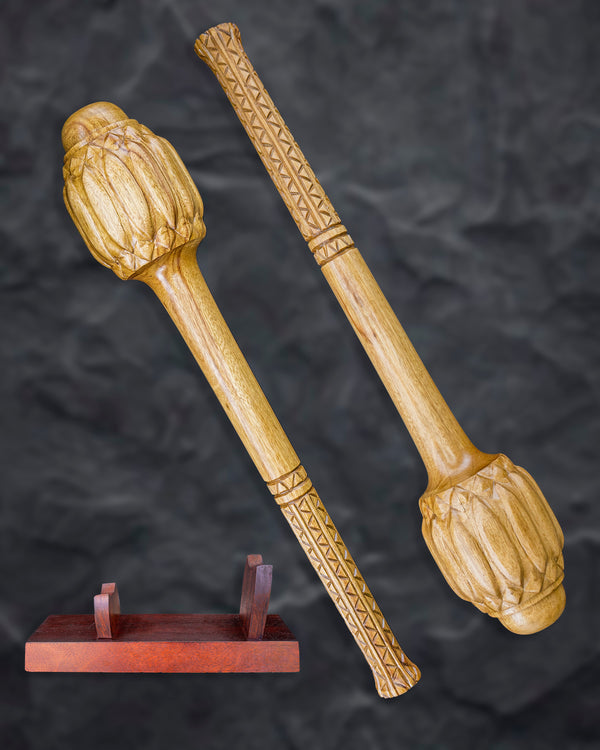 Introducing our War Clubs, each a unique piece of functional art crafted by expert artisans using only the finest exotic hardwoods. Each war club is carefully hand-carved to feature intricate designs and patterns that are both beautiful and one-of-a-kind. The rare jungle hardwoods used are known for both their strength and exceptional durability, making these clubs not just decorative pieces, but fully functional weapons as well. With their tapered design distributing much of their weight towards the head, these war clubs are perfect for either display or for historical reenactment purposes. Whether you're a collector, reenactor, descendant of fierce warriors, or simply looking for a unique conversation piece… our hand-carved war clubs are sure to impress.
We have nearly lost the art of creating beautiful and dangerous items from wood. It has all but slipped from the consciousness of the common man that there are types of wood, incredibly hard and incredibly well-suited for impact weapons. Greg has spent the last 7 years trekking deep into the jungles of Central America for weeks on end. Braving swarms of disease carrying insects, close calls with dangerous animals, and even building custom vehicles to traverse the difficult terrain: Greg harvests extremely rare fallen trees of the specific genus and species (specific wood data listed below) in which our ancestors from before metal was even invented knew to be the secret to creating devastating impact weapons. From there, Mr. Bone uses his knowledge of arms and armor to breathe life back into forgotten weapons. Painstakingly creating historically accurate replicas of these tools, with a few minor tweaks to make them more viable in our current world. One of which is the advanced transparent poly coating that will allow our clubs to last for centuries to come.
Exotic jungle Nargusta wood is rarely seen in the US but has incredible blood red streaks running through the warm yellowish heartwood. The contrast of the rustic finish is truly magnificent to behold, different in each and every tool. In terms of strength and durability it is comparable to American Hickory.
Impact weapons have arguably killed more people throughout history than any other weapons classification. The original prized possession and personal security force multiplier of the world's first men were made from wood. Metals were virtually unknown and nonexistent in the Pacific Islands up until nearly the 20th Century. This meant that hardwoods received much more attention from craftsman and warriors alike, bringing about many interesting, unique, and intricate wooden club designs. Certain types of hardwood are even harder than some metals, earning them the classification of "Ironwood". These dense hardwood war clubs were an ancient Pacific Islanders most prized possession. Fijian warriors even named their clubs and sometimes honored them as distinguished members of their society.
Much of the inspiration for Greg's war club designs came from the warrior culture of Fiji. Nowhere else in our human history was the wooden club so specialized or such a prize possession for a warrior. A Fijian man even through the 19th century wouldn't leave home without at least one war club, not even to work in the fields. We are currently offering two distinct war clubs: the Headhunters Ula Tavatava and the Ratu Udre Udre Modernized Kiakavo Walking Stick.
Our Headhunters Ula Tavatava was loosely based on the small I Ula throwing club. These clubs were often carried tucked into the belt, even several at a time, similar to how a European would have carried dueling pistols around the same time period. The Bone Tactical Headhunters Tavatava ships complete with a beautiful hand made base stand for display purposes.
The Ratu Udre Udre Modernized Kiakavo was inspired by the larger, primary war clubs carried by chiefs and elite warriors. Greg has designed the Bone Tactical version to be disguised as a walking stick or cane, allowing it to be brought into many areas that such an effective force multiplier would normally not be allowed entrance.
Nargusta Headhunters Ula Tavatava Specs:
Overall Length: <24"
Diameter: 1 3/8" - 4"
Weight: <3lbs. (without base)
Material: Exotic jungle Nargusta Heartwood
Nargusta Kiakavo Walking Stick Specs:
Overall Length: 36"
Diameter: 1-1/2" - 7"
Weight: 2-2.5lbs.
Material: Exotic jungle Nargusta Heartwood